10 best South of France beach holiday resorts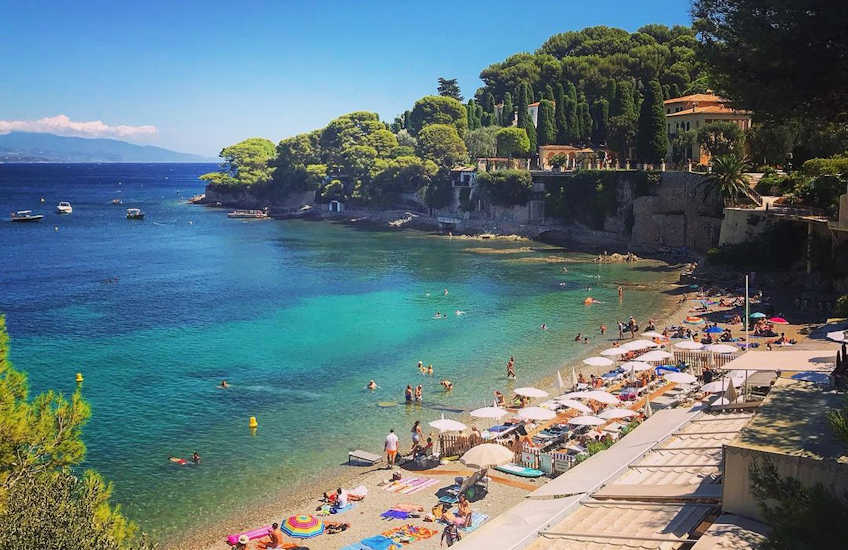 The South of France coastline runs for over 500km along the Mediterranean sea. In the South of France, there are 176 blue flag beach resorts and over 830,000 holiday homes. In the French Riviera alone, there are 71 miles of coastline and 3,000 restaurants. The Languedoc has over 220 km of beaches.
Best beach resorts South of France
The South of France receives over 9.2 million visitors each summer, spending a total of 65 million nights in a range of tourist accommodation (hotels, B&Bs, villas and rental apartments). It is estimated that the holiday and travel sector accounts for over 150,000 jobs and it comprises 15% of the local economy.
Finding the best beach resort for your holiday in South of France is not easy, but we have simplified things and picked out our top 10 favourite beach holiday destinations in Cote d'Azur, Provence and the Languedoc.
In addition to providing local tourist information about the best places to visit in South of France based on our own travel across the region, we also provide an excellent range of holiday rental accommodation across Southern France. So we have also highlighted some of the most popular beach rentals on Go South France in these popular resorts.
1. South of France beach resorts: St Tropez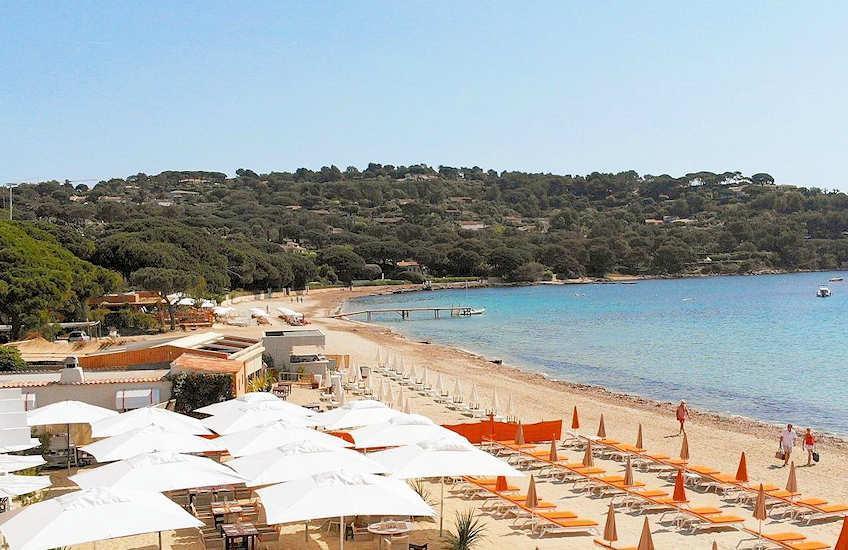 I don't know what I was really expecting, but I have to say that the first time I went to St Tropez, I was quite amazed by the fact that it was just a normal town with a huge reputation. I mean, there was a local Spar shop, the restaurants were not too expensive and it was easy to find space on the beaches. That isn't to say that St Tropez is also not glitzy and glamourous. The yachts lining the harbour are enormous, probably twice the size of my house. You can also see all the speedboats and helicopters ferrying celebrities to beach bars and private parties. Some beaches are exclusively private (exclusive = rich or gorgeous (or both)) and I can imagine that if your name is not down on the list, you simply will not gain entrance to some bars and nightclubs.
But overall, the impression I have of St Tropez is that it is a relaxed, chilled-out place, where you can do your own thing. St Tropez definitely has its own vibe, which it has been able to successfully maintain over the last 50 years.
On Go South France, we have a number of reasonably priced villas and apartments close to St Tropez where you can stay: St Tropez holiday rentals.
2. Best holiday destinations: Menton, Cote d'Azur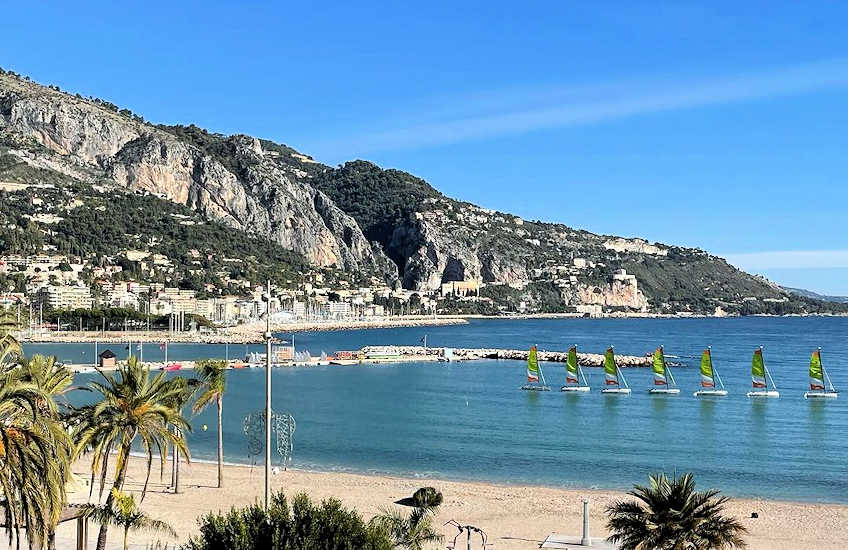 I often describe Menton as the French Riviera beach resort for the ordinary man or woman. This is not to say that Menton is ordinary - far from it, it is a stunning place to stay. It is just not as glitzy or as rich as some of the neighbouring resorts such as Villefranche-su-Mer or Roquebrune-Cap-Martin.
But I think that the coastal town of Menton provides so much more that some of its more celebrated resorts on the French Riviera. There is always something going on in Menton. In February, the town gives itself over to its famous Lemon festival. Menton is famous in France for the production of lemons and citrus fruits and the huge Menton Lemon Festival celebrates its famous produce over a 3 week period with giant sculptures made from lemons, oranges and limes, as well as processions, street parties (and a lot of drinking).
In September, Menton holds a 4 day Latin American dance festival, featuring star performances, impromptu dances in the street and dance classes held in the open air in parks and on the promenade (see Menton Tango dancing festival). in July and Classical Music festivals in July and August.
For centuries, Menton has attracted visitors on account of its micro-climate and it still remains one of the sunniest towns in France. This special climate has provided the perfect conditions for growing plants and Menton is famous for its impressive gardens. There are 7 main gardens to visit, some public, some private. During July each year, Menton throws open the gates to all the gardens and they attract thousands of visitors (see Menton Garden festival).
Menton is also an excellent spot to stay in during the near-by Monte Carlo Grand Prix. Menton has a good range of beaches in the lovely bay and the old town is a great place to walk around. The town has an excellent market, lots of good restaurants and cafes and the old town is a great place to walk around. Menton is also home to some good restaurants, including the fabulous Mirazur restaurant run by Chef Mauro Colagreco. Since opening in 2006, the Mirazur has achieved 3 Michelin stars and it is currently the holder of the award for the World's Best Restaurant.
So it is easy to see why Menton is such a popular destination for thousands of visitors choose to holiday in each year. Menton is located just a 3 kilometres from the Italian border and during it's history, it has been under both French and Italian (Sardinia) rule. The French artist and film producer, Jean Cocteau, stayed in Menton for a long period of his life and there is an excellent museum in the town dedicated to him. Other famous residents of Menton include the Irish poet WB Yeats and the founder of the sport of Rugby, William Webb Ellis, who lived and died in Menton during 1872.
Sea view apartment rentals Menton, France (Ref: 1669)
A beautiful 1 bed sea view apartment rental in Menton, France, located on the Promenade du Soleil. This spacious apartment overlooks the beach in the picturesque French Riviera resort of Menton.
There is no need to rent a car whilst you stay at this apartment. You can catch a bus or train straight from Nice airport to Menton (there is a train station and bus stop near the apartment building).
With the beach just a few metres away and the town a 5 minute walk, this apartment rental is very convenient.
Available to rent for €900 per week (July and August 2021).
3. South of France beach resorts: Gruissan, Languedoc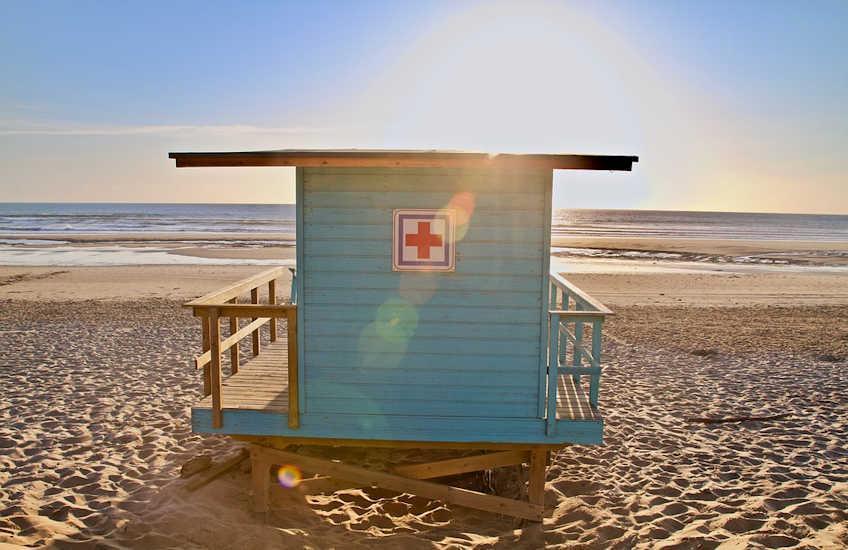 Just to the east of Narbonne, lies the relaxed beach resort of Gruissan. The Languedoc region is a little more relaxed and chilled out, than its glamorous cousin further round the coast. But whilst the Languedoc cannot compete with the French Riviera for Super-sized Yachts, A-list celebrities and multi-million villas, it more than makes up for with better beaches, fantastic wines, cheaper restaurants and much more space. The roads are less clogged up with traffic, the beaches have more space and there is actually more things to do and see. It also has one or two hidden gems that you should seek out
The coastal town of Gruissan is one of these gems. The town is hidden from view by the rocky outcrop of the Clape Massif, which rises up out of the salt marshes that surround Gruissan. Gruissan was originally a fishing village on a small island surrounded by marshland. The town itself is built around a small hill, with an historic centre that spirals out from the Chruch and Castle at the top of the hilltop.
In recent years Gruissan, France, has expanded considerably into a popular beach resort, with the development of holiday homes in between the town of Gruissan and Gruissan Plage, a modern yachting marina and holiday apartments built along the palm-lined quays
Just a couple of kilometers towards the Mediterranean sea, Gruissan Plage provides one of the best beaches in the South of France. All the Languedoc beaches around this area of the coast are characterised by wide, open, flat sandy beaches.
Gruissan Plage also has the extra kudos of being the setting for the French film, Betty Blue, a film about two passionate lovers living in a beach hut built on stilts. The beach huts are still there to see, rising up above the golden sand.
Gruissan, is a small South France holiday resort with a Casino and the four nightclubs. There is always plenty of night life in the bars and restaurants around the marina, where you can dine while overlooking the yachts and listen to live musicians playing all types of music. There is a wide range of water sport activities for all the family and you will also find a range of other activities including horse riding, cycling and an amusement park.
4. Best beach resort South France: Roquebrune-Cap-Martin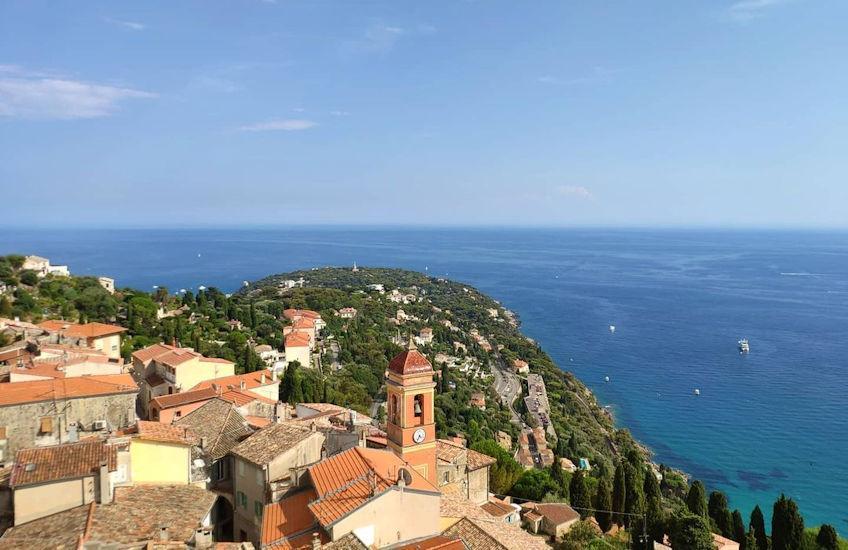 Whereas Menton and Gruissan are the accessible, down-to-earth beach towns on the South France coast, Roquebrune-Cap-Martin is definitely the more exclusive, upmarket resort for the rich and famous. This pretty French Riviera beach resort is one of the most picturesque places to visit on the Cote d'Azur and enjoys spectacular views of the bay of Menton and the Italian Riviera.
Roquebrune-Cap-Martin is a popular French Riviera resort located in between Monaco and Menton. The resort is split in two. You have the beach resort of Cap Martin on the coast and the charming medieval village of Roquebrune perched high up on the rocky cliffs above.
Cap Martin has some of the most expensive real estate along the French Riviera and you will find some exquisite villas here, some dating back to the late 19th century. Roquebrune-Cap-Martin is situated on a beautiful wooded peninsula on the Mediterranean coast and has been one of the most sought-after locations on the French Riviera, by both artists and the aristocracy. The 'Belle Epoque' era, or golden age of Europe (from 1871 to World War 1) witnessed significant development of the French Riviera coast.
The French fashion designer, Coco Chanel, made sunbathing fashionable whilst staying on the French Riviera. She acquired a deep tan during her stay in the summer of 1923, and tans then became the fashion in Paris. She later built a villa in Roquebrun-Cap-Martin in 1928.
The beaches around the Roquebrun Cap Martin are stylish and chic, offering visitors a true taste of the Riviera lifestyle. Roquebrun Cap Martin's proximity to Monaco ensures that it is very popular with visitors throughout the tourist season.
One alternative to the public beaches is the Monte Carlo private beach club. which hosts the annual the Monte-Carlo Tennis Masters tournament. This private club is situated in a stunning location, looking out over a beautiful Côte d'Azur bay on Cap Martin. This luxurious beach is family friendly, offering a kids' club, an ice-cream bar, beach volleyball, ping pong, baby foot and WIFI access.
In contrast, the quiet old town of Roquebrune, provides some amazing views over the coastline below. There is a Medieval castle and beautiful 12th century church and its narrow streets are a pleasure to stroll around. There are also lovely little squares and in the evening this is a great place for people-watching whilst you wait for the sun setting over nearby Monaco.
5. Best holiday destinations in the South of France: Theoule-sur-Mer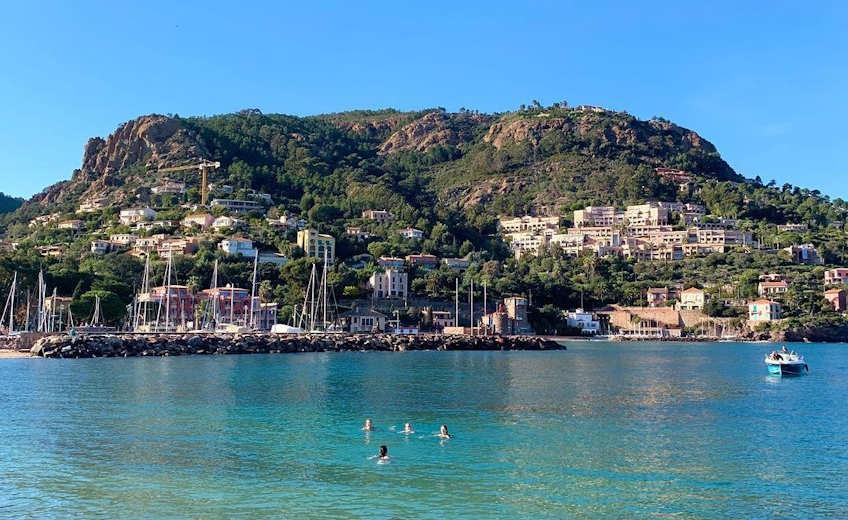 Theoule-sur-Mer is a small beach resort located next to Cannes on the Golfe de la Napoule. Theoule-sur-Mer was recently voted one of the 50 best places to live in France (out of over 34,000 towns and villages). It is easy to see why. This former fishing village hugs the cliffs and provides panoramic views over the bay to Cannes and Antibes.
Theoule-sur-Mer is tucked away in a small inlet among the rocks of the Esterel Mountains. It is one of the most beautiful coastal resorts on the French Riviera. Since medieval times, Theoule-sur-Mer has been dedicated to fishing and it has retained its air of a small town, despite its rich and famous residents (the fashion designer, Pierre Cardin, had a spectacular holiday home, the Bubble House, built on the hillside high above Theoule-sur-Mer).
Théoule-sur-Mer provides a number of public and private beaches, together with a Marina and provides the ideal base for a beach holiday in France. Theoule sur Mer possesses some excellent sandy beaches, often set into small bays carved out of the red rocky coast. With the clear turquoise waters and fine beaches, fish restaurants and truly beautiful private beaches and luxury hotels, Theoule sur Mer is the perfect place for a beach holiday in France.
Everyone knows the nearby town of Cannes because of the film festival held there every year. But to be fair to Cannes, there is an awful lot going on besides this. There is not a month goes by where there isn't a large conference being held in the city. Be it the MIDEM music festival, or the MIPTV television and media conference, or the MIPCOM entertainment event or the huge MAPIC real estate show.
The old town of Cannes is a pleasant place to spend time in and Cannes is blessed with some fine restaurants and chic shops (along the Rue d'Antibes and La Croisette). Also closeby to Cannes, you will find some wonderful places to stay including Antibes and Juan-les-Pins. Here you can sample some excellent beaches and all manner of water sports.
During the height of the summer, the roads around Cannes do get very busy, but if you head slightly inland to Mougins and Valbonne, you will find these places to be quieter.
We have a fantastic sea view villa for rent in Theoule-sur-Mer, located just next door to the famous Bubble House. With uninterrupted views over the bay towards Cannes and Antibes, a stunning infinity swimming pool, 4 bedrooms and 3 sun terraces, this is the perfect place to rent for a beach holiday in South France.
Private villa with sea views and infinity pool near Cannes, sleeps 8 (Ref: 1433)
This private villa near in Theoule-sur-Mer near Cannes, South France, comes with stunning sea views, 3 terraces and an infinity swimming pool.
The villa is located a short walk from sandy beaches and is close to the centre of Theoule-sur-Mer village, with its numerous shops and restaurants. This private and secure villa in South France is spread over four floors and comes with 4 double bedrooms, a private lift to all floors, air conditioning, private off-road parking and WiFi internet.
The villa is situated in a quiet residential area on a hillside overlooking the Mediterranean sea and the Bay of Cannes. Just next door there is the iconic Pierre Cardin "Bubble House".
Prices from 2,250.00€ per week
6. Best South of France beach holiday destinations: Cavalaire-sur-Mer, Provence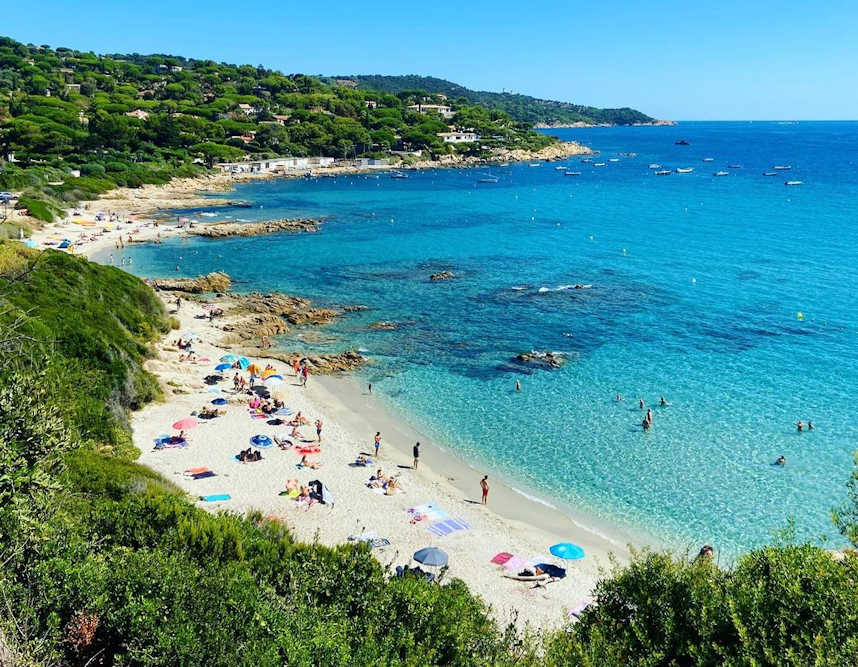 If you want the South of France in a snapshot, then it has to be Cavalaire-sur-Mer. This small beach holiday destination on the French Riviera has it all: turquoise blue water, golden sandy beaches, pine forests and beautiful mountain views.
Cavalaire-sur-Mer is located on the Mediterranean coast in the South of France, between Saint-Tropez and Le Lavandou. It is part of the Var department on the southern tip of Provence. Cavalaire is located on the southern slopes of the Massif des Maures, as they tumble into the sea.
Although Cavalaire is flanked by some more popular resorts such as La Croix-Valmer, Le Lavandou, Saint-Tropez and Le Rayol Canadel; it gets my vote because it is way more relaxed, affordable and less glitzy. There are 3 beaches in Cavalaire-sur-Mer, but the pick of these is the stunning Escalet Beach, located right by the town. This sandy beach is flanked by two rocky outcrops, which help shelter the beach. The water is warm and a delightful turquoise colour. You just look out and see the boats bobbing up and down and you immediately chill out.
Other beaches can be found in the rocky coves of Bonporteau creek and La Nasque further around the coast. There is also a beautiful coastal trail along the coast towards the Cap Lardier.
Although it is difficult to imagine today, Cavalaire was the site of Allied landings in Provence during the Second World War. Three American infantry divisions disembarked on the shores of the village, before heading on to liberate Toulon and Marseille.
7. Best beach cities South France: Meze, Languedoc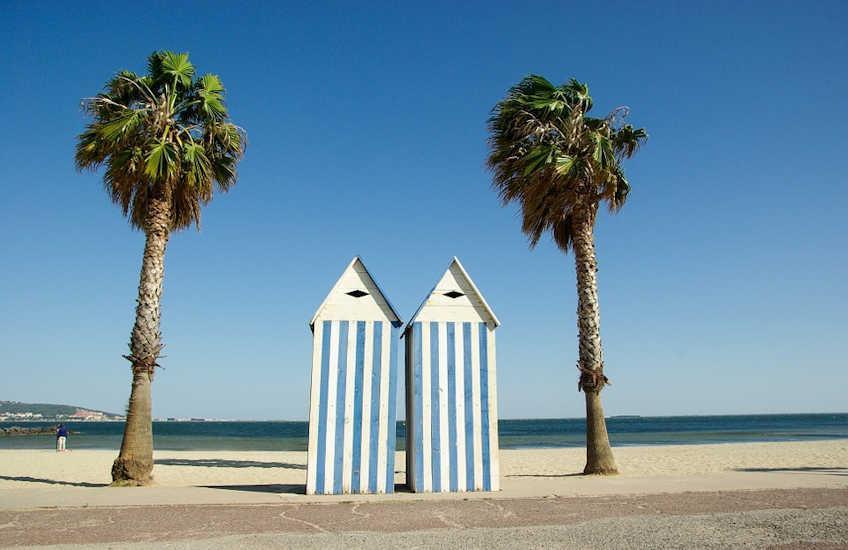 The coastal town of Meze is a real gem of a place to stay in the South of France. Located on the shores of the Etang du Thau, a large salt water lake separated from the Mediterranean sea by a thin strip of golden sand; Meze is an old fishing village with a lovely harbour area and two sandy beaches.
The Etang du Thau produces nearly 10% of the oysters and mussels consumed in France. The nearby fishing village of Bouzigues is famous throughout France as producing the finest oysters and mussels (huîtres de Bouzigues) and are shipped daily to the kitchens of most Michelin star restaurants in France. There are over 700 oyster and mussel producers on the Etang and there is also a thriving fishing industry catching mainly sea bass and dorade (sea bream). It is estimated that up to a third of the people living in Meze depend to certain extent on income derived from fishing, oyster production and marine tourism.
If you want a real treat, take a meal in one of the numerous restaurants that line the shore and sample the finest oysters or mussels you're ever likely to taste, washed down with a chilled bottle of Picpoul de Pinet. The restaurants are not expensive at all and everything that you eat will have been pulled straight from the Etang du Thau early that morning. Alternatively, do what we do. We take a chilled bottle of Picpoul with us, together with Tabasco and lemon and buy our oysters fresh from the fishermen in the village. We then sit on the banks of the Etang de Thau and eat like kings.
The old ramparts surrounding the port and old market square in Meze, reminds me of the old town in Antibes in Cote d'Azur. Admittedly it is a more down market version, but the views from the ramparts over the oyster beds towards the town of Sete, on the far shore of the Etang, are worthy of any picture postcard.
The centre of Meze is a bustling place, with plenty of small shops, boutiques, cafes, restaurants, bars and of course stores selling fresh oysters and shellfish. At the end of the port area there is a small beach area that does get quite busy in the summer (but not as busy as the coast). The sand is not golden, but it does the job.
Meze apartment to rent South of France, sleeps 4 (Ref: 1480)
This harbourside apartment to rent in Meze, South of France, provides very relaxing accommodation for up to 4 people. This lovely apartment comes with 2 bedrooms, Wi-Fi, Satellite TV and a large balcony overlooking the boats in the harbour.
Meze is a coastal town located on a salt-water lake, which is separated from the Mediterranean sea by a thin strip of beach. Meze has plenty of excellent seafood restaurants, shops, as well as its own beach. This apartment in South of France is available for summer holiday rentals, as well as winter holidays.
Available to rent for €1,050 per week (July and August 2021)
8. South of France best destinations: Marseille, Toulon, Cassis and Hyeres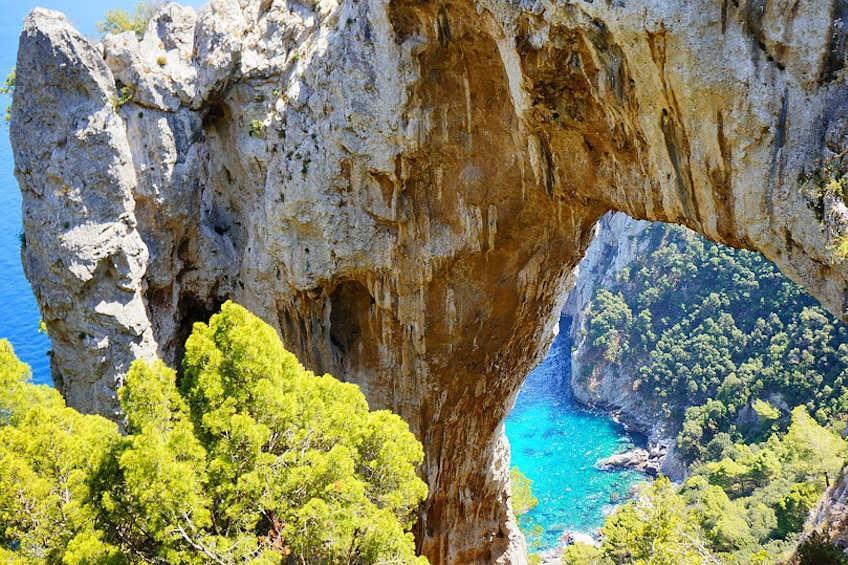 Marseille and Toulon always seem to have a bit of a reputation. Toulon for being a naval town and Marseille for being, well dangerous. I have to say I didn't think either reputation is entirely justified. Yes, Toulon is a large port town, but there is much more to the place besides this. Toulon boasts some excellent restaurants and an enormous daily market. It is a rugby-mad town as well and the English Rugby player Jonny Wilkinson played here for 5 season is feted like a God in Toulon
Marseille is just a big city and there is no getting away from it. On it's outskirts it is a bit like the wild west, but in the centre, close to the Old Port, it is really lovely. I always describe Marseille as Shabby Chic - it is scruffy, but the locals are very friendly and you can find some hidden gems if you search for them. It is easy to get around with a metro, tram network and excellent water taxis. Yes you do need to be streetwise and sensible, but last year we spent the weekend in Marseille with our 3 kids and it was absolutely fine, in fact we had a great time. I have also been there recently to watch the football at the beautiful new Velodrome stadium and there was a great atmosphere both in the stands and outside walking around.
I would probably say though that my personal favourite destination in this part of South France is the coastal town of Cassis. It is just beautiful. I have just finished watching a French TV series called A Deadly Union, which is set in Cassis. The show itself is very good, but what really makes it is the beautiful camera work and the stunning coastline. If you have not been to Cassis, I would strongly recommend you do so
Close to Cassis there is a beautiful inlet called the Calanques de Cassis, where the water is crystal clear and a beautiful turquoise colour. The sea is framed by these high white cliffs and you can hire a boat to go fishing or snorkelling.
Nearby to Cassis, you will find the larger town of Hyeres. This is the oldest resort on the French Riviera. Hyeres is famous for growing Palm trees and the town itself is very green and well laid-out. The coastline surrounding Hyeres offers turquoise blue waters and golden sands. The dense woodland which encircles this part of the coast, provides an interesting visual contrast.
Just offshore from Hyeres, less than a half-hour by boat, are a cluster of three gorgeous islands with spectacular beaches that are popular with the French and are busy at the height of the season. Collectively referred to as the Ile de Hyeres or Golden Islands, you will find some excellent beaches to visit. Porquerolles Island is the largest of the Golden islands and has one of the best beaches in France. The crescent-shaped Plage de Notre Dame on the north-eastern coast, is fringed with pines and eucalyptus trees.
9. Southern France beach towns: Argeles-sur-Mer, Languedoc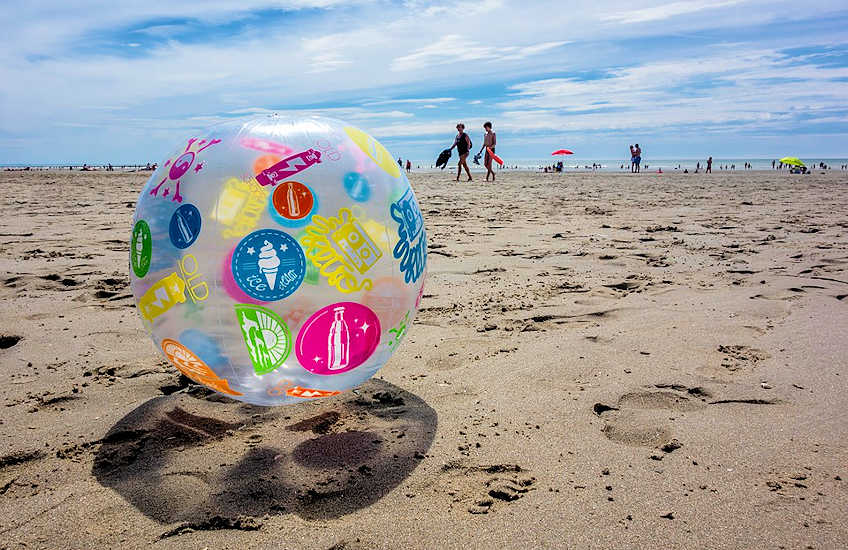 The Southern France beach resort of Argeles-sur-Mer, located close to Perpignan and the Spanish border, is home to over 55 campsites and it sees its population swell from 9,000 to over 90,000 during the months of July and August. The visitors are drawn to the seven mile sandy beach, which has the beautiful backdrop of the Pyrenees mountains in the distance. The Mediterranean sea at Argeles is lovely and warm and perfect for swimming.
Argeles Plage is one of the best beaches near Perpignan and has a blue flag award to recognise the quality of the water and cleanliness of the beach. Argeles-sur-Mer itself has along with nearby Canet, become a major Mediterranean beach resort, with excellent facilities and a big harbour area. Argeles has one of the best Water Parks in the Languedoc and there is also a Zip-wire wakeboarding centre (called Teleski) and an amazing Canyoning centre locate din a disused quarry, where you can jump off cliffs into deep turquoise water pools.
Areles-sur-Mer also hosts an annual music festival during July, where some of the biggest acts in Europe perform on their way down to the summer festival circuit in Spain.
Argeles sur Mer beach is situated on the Cote Vermeille, the only east facing coastline in France. As a result, the broad sweeping bay with wide sandy beaches are wonderfully sun-drenched and are perfect for families, young children and teenagers. Argeles sur Mer actually has three beaches. Argeles Plage Nord and Argeles Plage des Pins are long sandy beaches with plenty of space. Le Racou, to the south is a neat little bay with amazingly blue water and it tends to be less crowded.
Argeles-sur-Mer grew rapidly at the end of the 1930's, as its population was swollen with the arrival of thousands of refugees fleeing Franco's dictatorship in Spain. Many died during the first harsh winter in 1939 and others perished fighting for France during the Second World War. Today, Argeles sur Mer is a popular resort with some excellent restaurants and decent shops.
10. Villefranche-sur-Mer beach holiday resort South France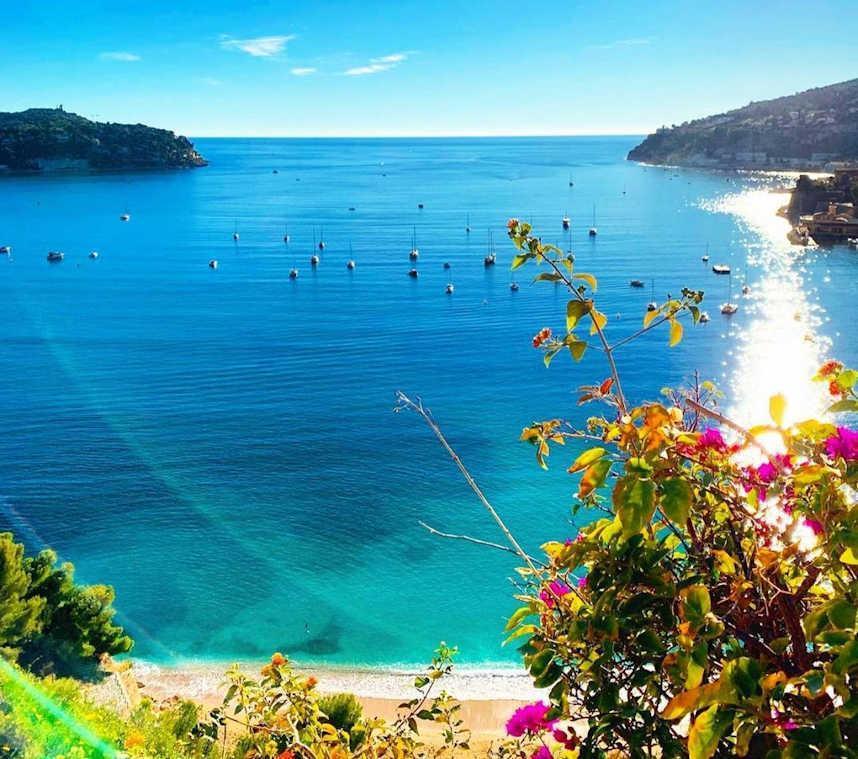 Villefranche-sur-Mer is a popular French Riviera beach resort located in between the cities of Nice and Monaco. The lovely sweeping bay in Villefranche is one of the most picturesque sites in the South of France and it is ringed by restaurants, beach bars, cafes and expensive apartment buildings.
The weather in Villefranche sur Mer is a typical Mediterranean climate, with long hot summers and mild winters. Traditionally visitors came to Villefranche during the Winter months, when the mild temperatures were a welcome relief from the damp and cold conditions in northern Europe. During the winter the weather in Villefranche is mild and bright, with average temperatures around 11°C and average sunshine levels of around 5 hours. During the Summer the average temperature peaks at 26°C in July and August and then drop back to 23°C in September. Whilst you can get the odd peak of temperatures rising to above 35°C, the sea breeze helps to make it still feel fresh.
The population of Villefranche-sur-Mer is around 6,000 people, but this more than doubles during the summer season. The bay of Villefranche-sur-mer has been used as the setting for many famous films, including Hitchcock's To Catch a Thief and the James Bond film Never Say Never Again. Villefranche-Sur-Mer was also used as a base by the Rolling Stones during their recording of their 1972 album Exile on Main St.
Although you wouldn't think it today, Villefranche is the site of some of the oldest settlements in France, with archaeological remains dating back to prehistoric times. The Greeks and later the Romans used the natural harbour as a stop-over en route to the Greek settlements around the Western Mediterranean. This part of the French Riviera has only formally been part of France since 1860, with Villefranche being fought over for centuries by the Italian, Sardinian and Napoleonic armies.
By the late 19th century Villefranche-sur-Mer had become an important winter residence for royal families and wealthy visitors, most notably King Leopold of Belgium. who built the famous Villa Léopolda on the hills above Villefranche, which was once described as the most "expensive house in the world".
Compared to other beaches surrounding Nice on the French Riviera, the beaches of Villefranche are relatively quiet even in the summer months. The Plage des Marinières is the most popular Villefranche beach and is located at the north end of the bay. The Plage de la Darse beach, is located behind the main jetty of the harbour of La Darse. These beaches are especially popular with divers and snorkelers (there are plenty of rocky inlets to explore).
Tags: Beaches South France, Cote d'Azur, Provence France, Accomodation, Languedoc South France