2021 Nice Christmas market France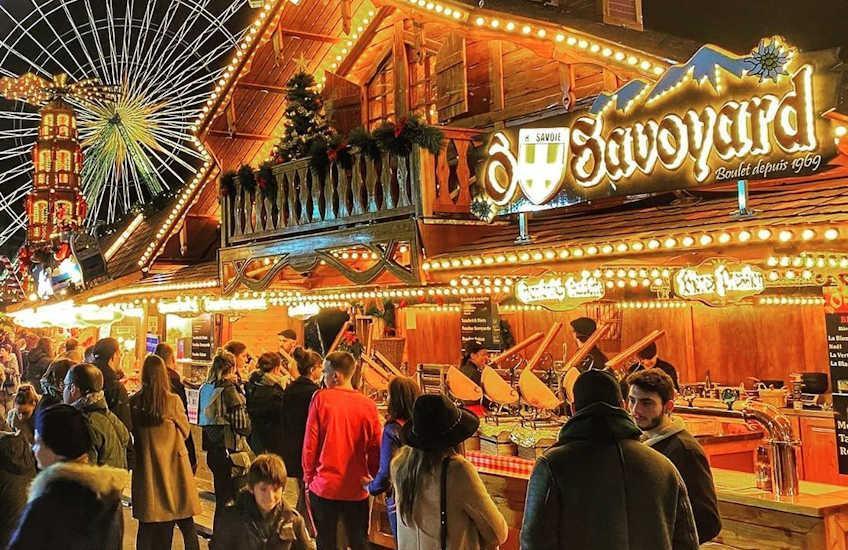 Nice organises an annual "Le Village de Noel" in the central Jardin Albert 1er that incorporates an ice rink, a Ferris wheel and a lot of Christmas related food and drink. The market is themed around an alpine village and you will see the stalls located in 60 French mountain chalets and an alpine forest constructed from over 600 pine trees. Perhaps the most picturesque element however is the Christmas lights and decorations along the Promenade des Anglais.
Nice Christmas market France 2021
The 2021 Nice Christmas market in France runs from 5 December 2020 to 2 Jan 2021 in the Jardin de Albert 1er and is open every day from 11.00 to 20.00. Papa Noel makes an appearance from his busy Christmas schedule from 19 to 25 December 2021 (from 14.00 to 19.00). This French Christmas market in South of France is one of the most popular winter markets in France, attracting over 100,000 visitors each year.
Christmas in Nice France
The Christmas period is a great time to visit Nice. Although the temperature drops, you still get many mild days averaging around 13-14oC (57F) and the skies are still bright blue. The climate remains dry (with only a 17% chance of rain and rain falling on 9 days per month) and you can benefit from the 9 hours of sunshine per day.
The shops along the Avenue Jean Medecin are full of Christmas decorations and the Old Town is not as jam-packed busy as you will find at other times of the year. The Christmas lights along the Promeade des Anglais and in the Place de Massena are fantastic.
There is a free concert staged by the Nice Philarmonic Orchestra on New Year's Day (at the Acropolis) and you can enjoy the Christmas Carols sung in Occitane at the local churches.
Tags: Nice France, Markets South France