Top French Chefs in the South of France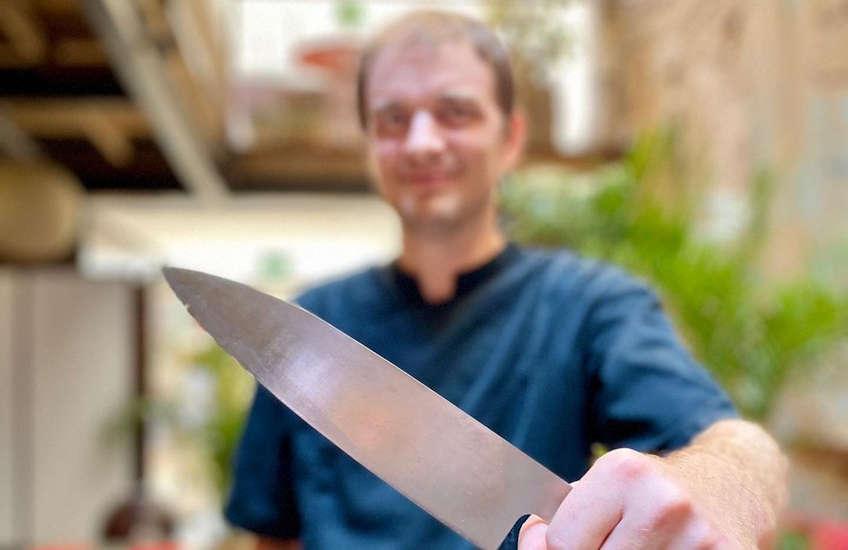 Meet the top French Chefs in the South of France, who are leading the way for restaurants across Cote d'Azur, Provence and the Languedoc. If you are planning a visit to the South of France in 2021, then seeking out one of these top Chefs and eating at their restaurants will be an unforgettable experience.
If France is the home of cooking, then the South of France must be the best kitchen larder in the World. With so many fresh local ingredients to choose from, cooking in the South of France is an absolute joy. With such a wonderful climate in Southern France, you can grow the best fresh vegetables and herbs. Most of the high quality Chefs featured here have their own kitchen gardens and they use only seasonal vegetables in their cooking.
Also with plentiful seafood and fantastic local beef (from the Aubrac area of Auvergne in Southern France) it is the perfect location for quality cooking. But the ingredients are not everything. You also need the imagination, the skill and the flair.
Best Chef in the World: Mauro Colagreco, Mirazur restaurant, Menton, France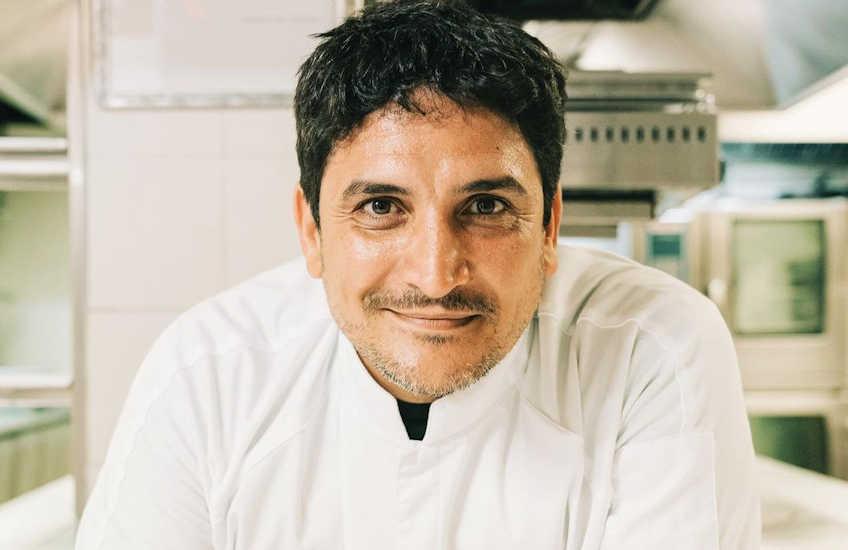 Mauro Colagreco [Photo courtesy of Mirazur Restaurant]The best chef in the French Riviera is undoubtedly Mauro Colagreco, who runs the 3 Michelin star restaurant of Mirazur in Menton, South France. The Mirazur was recently voted the World's Best Restaurant, the first time a French restaurant has won this celebrated award. Run by this charismatic Italian-Argentinian chef, the Mirazur restaurant is located high above Menton, France, just metres away from the Italian border. The restaurant provides both amazing views and equally-amazing food.
Mauro Colagreco grew up in Argentina and is one of the youngest Chefs ever to receive 3 Michelin stars. After training in Argentina and France, he then proceeded to work at some of the most celebrated restaurants in France: Arpège 3 (with Alain Passard), the Hotel Plazza Athénée (with Alain Ducasse) and the Grand Véfour (with Guy Martin).
The Mirazur was opened in 2006 and the food is a fusion of classic French cuisine, Italian flamboyance and an earthy Argentinian belief in the power of the ingredients speaking for themselves on the plate. The Mirazur restaurant is located in a 1950's art deco inspired building, with a lovely dining room providing panoramic views over the bay of Menton in Cote d'Azur. The restaurant is laid out over 3 storeys and surrounding the restaurant is the large kitchen garden where Colagreco grows the vegetables, herbs, avocados and citrus fruits (for which Menton is famous for).
The Chef is renowned for combining bold flavours and his presentation of the dishes is second to none. Using local ingredients (both Italian and French) and vegetables hand-grown in the kitchen garden; the Mirazur menu draws heavily on locally reared poultry and meat, as well as fish and seafood harvested in the local waters.
After gaining his second Michelin star in 2012, Mauro Colagreco saw the Mirazur rise to number 11 in the World's Top 50 restaurants, becoming the highest ranking French restaurant in the list. In 2016, the Mirazur exceeded expectations and entered the list of the top 10 best restaurants in the World for the first time, being ranked the 6th best restaurant in the World. In 2017, the Mirazur went a step further and climbed to Number 4 in the list of best restaurants in the World.
In addition to the Mirazur, Colagreco also runs the Grand Coeur restaurant in Paris and has a number restaurants in Argentina. He has recently opened Grill 58 in Macao and Florie's in Palm Beach, USA. .
What is perhaps most surprising, is that the Mirazur only finally gained its coveted 3 Michelin stars in 2019. Not only has the Mirazur proved itself to be the best restaurant in the South of France, but in Mauro Colagreco it has the Best Chef in the World.
You will find the Mirazur restaurant at 30 avenue Aristide Briand, Menton, France. For reservations either call (+33 4 92 41 86 86) or email a reservation to Mirazur Menton.
Best Chef's in Cote d'Azur: Dimitri Droisneau, La Villa Madie, Cassis, France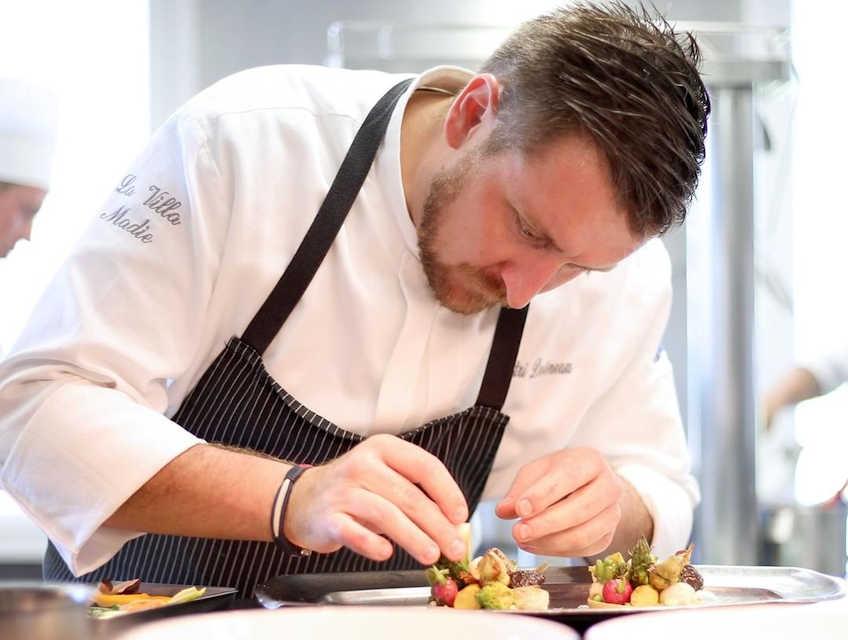 Dimitri Droisneau [Photo courtesy of La Villa Madie restaurant]
Overlooking the Bay of Cassis in South France, La Villa Madie is a 2 star Michelin French restaurant run by the dynamic young chef, Dimitri Droisneau. Along with Mauro Colagreco and Alexandre Mazzia (below); La Villa Madie is helping to set the scene for creative young French chefs to recapture the dominant place of French cuisine in the world.
Dimitri originally hails from Normandy in the North of France and he has trained at some of the top restaurants in Paris such as La Tour d'Argent, Le Lucas Carton and Le Bristol. After Paris, Dimitri moved to the South of France, becoming Head Chef at La Réserve de Beaulieu on the French Riviera. During his time at La Réserve de Beaulieu, Dimitri achieved 2 Michelin Stars.
Dimitri and his wife, Marielle, an experienced Restauranteur in her own right, took over La Villa Madie restaurant in 2013. It did not take long for them to make their mark. During 2014, La Villa Madie achieved 2 Michelin stars, joining an exclusive group of just 6 restaurants with 2 Michelin stars and above in the South of France.
The cooking at La Villa Madie restaurant in Cassis is high-end gourmet food. The menus range from a 4 course menu at €75 and an 8 course signature menu at €215. The signature menu includes an Appetizer, 6 dishes, a cheese plate and 2 desserts. Amongst Dimitri's signature dishes, are Grilled Mediterranean Royal Lobster with a Saffron Broth, Grilled Calamari and Red Mullet with a "Calanques vinaigrette", Rabbit and Palamos Prawns with a Provencal sauce and Veal sweetbreads with celery root, black truffles and lemon zest.
La Villa Madie is housed in a modern building with a panoramic view across the Mediterranean sea. It is located on the eastern side of Cassis, just underneath the enormous cliffs that frame the town. From the long bay windows inside the restaurant, you can enjoy fabulous views all year round. But it is in the summer months that La Villa Madie really comes into its own. The large terrace is the perfect place to eat, with the sea just below and the dramatic cliffs of Cap Canaille as your backdrop.
You will find La Villa Madie at Avenue de Revestel-anse de Corton, 13260 Cassis, France. For reservations call +33 04 96 18 00 00 or consult the website La Villa Madie Cassis French restaurant.
Famous French Chef in Provence France: Jacques Chibois, La Bastide St Antoine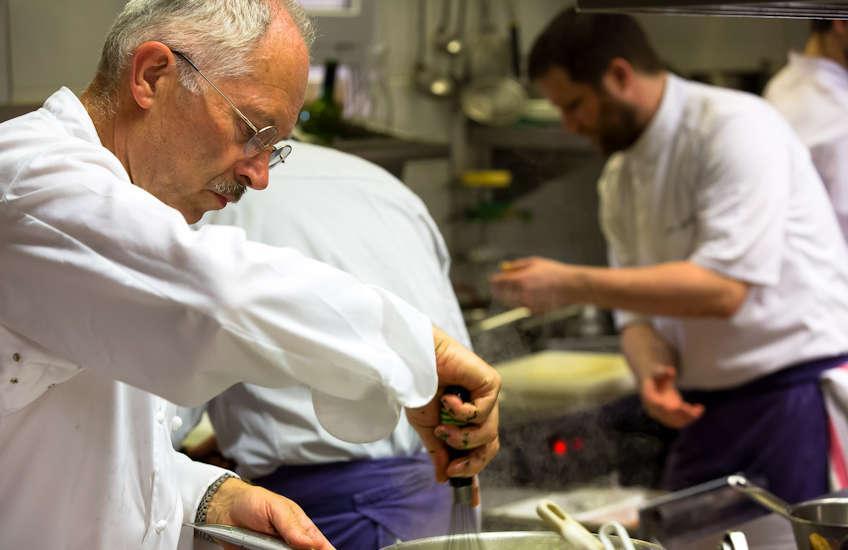 Jacques Chibois [Photo courtesy of La Bastide Saint Antoine restaurant]
One of the most famous chefs in Provence, France, is Jacques Chibois. He runs the celebrated La Bastide St Antoine, a Boutique hotel with a Michelin star restaurant, located close to Grasse in Southern France. The hotel is located in a lovely old-style Provencal country house, surrounded by an olive grove. La Bastide St Antoine is widely regarded as one of the best restaurants in Provence. La Bastide St Antoine
Jacques Chibois was born in central France and he was raised near the town of Limoges. His parents ran a flour mill and Chambre d'hote. His mother was an excellent cook and he accompanied her to local markets and nearby farmers to purchase produce for her evening meals at the B&B. With the help of his mother, Chibois obtained an apprenticeship at a Michelin starred restaurant near Limoges and then moved on to work in the kitchens of some extremely talented Michelin chefs, including Michel Guerard, Jean Delaveyne, Roger Vergé and Louis Outhier.
In the early '80s Chibois became the head chef of the 2 Michelin star Grey d'Albion restaurant in Cannes and during his stay here he was awarded the coveted Chef of the Year title. In 1996 Jacques Chibois opened La Bastide St Antoine and in 1997, he obtained 2 Michelin stars.
Jacques Chibois was also the proud recipient of the Chevalier de l'Ordre du Mérite et des Arts et des Lettres, a French honour which is bestowed upon individuals who excel in the field of art, writing, science and of course food.
Jacques Chibois is fiercely proud of the French culinary heritage and especially of the local dishes of Provence. He has written two best-selling cook books: "La Provence comme on l'aime" and "Saveurs et parfums de l'huile d'Olive" which contain many of his celebrated dishes such as pan-fried foie gras escalopes with artichoke cream and roast veal fillet with truffle potatoes.
La Bastide St Antoine restaurant is a member of the Les Grandes Tables du Monde association, which covers 170 of the World's top restaurants across 24 countries.
La Bastide St Antoine restaurant has a 3 course lunch menu at €63. The evening dinner menu includes a 6 course menu from €178 and a 10 course menu from €198.
You will find La Bastide St Antoine at 48 avenue Henri-Dunant, Grasse, Provence, France. For reservations call +33 04 93 70 94 94.
2 Michelin Chefs in Marseille, France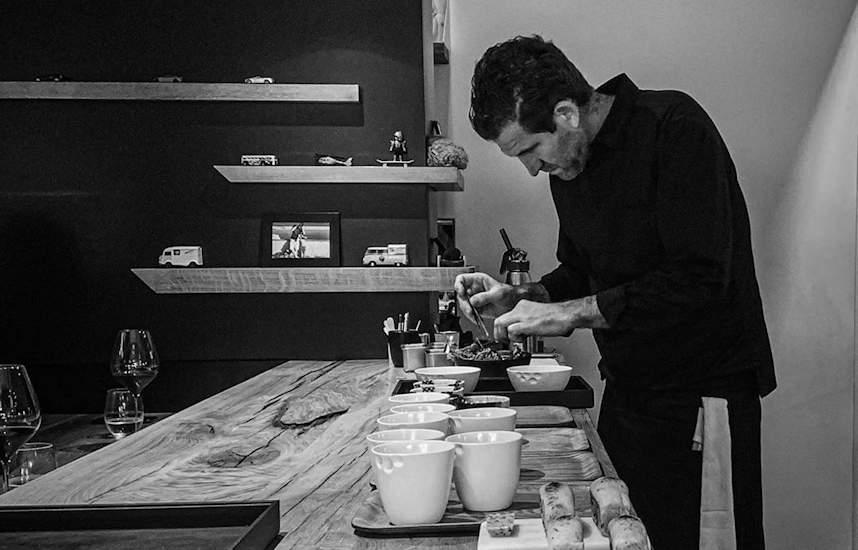 Alexandre Mazzia, AM restaurant 3 Michelin stars [Photo: www.instagram.com/alexandremazzia/]
The 2021 edition of the Michelin Guide published in January 2021, was unusual in the sense that rather than focusing solely on the standard of food and dining experience, the Judges instead they shifted their focus towards recognising restaurants which had created innovative ways to keep on serving high quality food, in the midst of a global pandemic. The Michelin guide also committed to not removing any Michelin stars for restaurants which were forced to close their doors during 2020.
Two chefs from Marseille received specific praise in the 2021 Michelin guide.
AM par Alexandre Mazzia
Alexandre Mazzia, was the only chef in France who was elevated to the elite group of Chefs who have 3 Michelin stars, in the 2021 Michelin Guide. His AM restaurant is located in a residential area of Saint-Giniez in Marseille, close to the Olympique Marseille football ground. So this is quite away from the Old Port area of Marseille where most tourists congregate.
Alexandre Mazzia has had an interesting life. He was born in the coastal town of Pointe-Noire in the Republic of Congo. He lived there for the first 15 years of his life. His father was a French timber merchant and accountant. When he moved back to France, the 6ft 4in Mazzia, took up basketball and played as a professional in France (for SMUC Marseille and US Avignon in the South of France).
He trained as a chef and between 1995 and 2004 (whilst still playing Basketball) he worked with a number of experimental 3 star chefs in France and Spain, including at Michel Bras' Laguiole restaurant in Aveyron, France, Santi Santamaria's ABaC restaurant in Barcelona and Martín Berasategui's Restaurant Lasarte-Oria near Saint-Sébastian.
In 2014 he opened his own restaurant in Marseille AM par Alexandre Mazzia. The idea behind his restaurant was that he wanted to transport diners back to his childhood experiences in the Congo. Each course is composed of a number of small dishes, which impart a different flavour or aroma.
In 2017 Mazzia he opened an upmarket bistro in Aix-en-Provence (Pointe Noire) and in 2018, Mazzia was named "Cook of the Year" by the Gault & Millau Guide. In 2019, he was awarded his second Michelin star for AM par Alexandre Mazzia.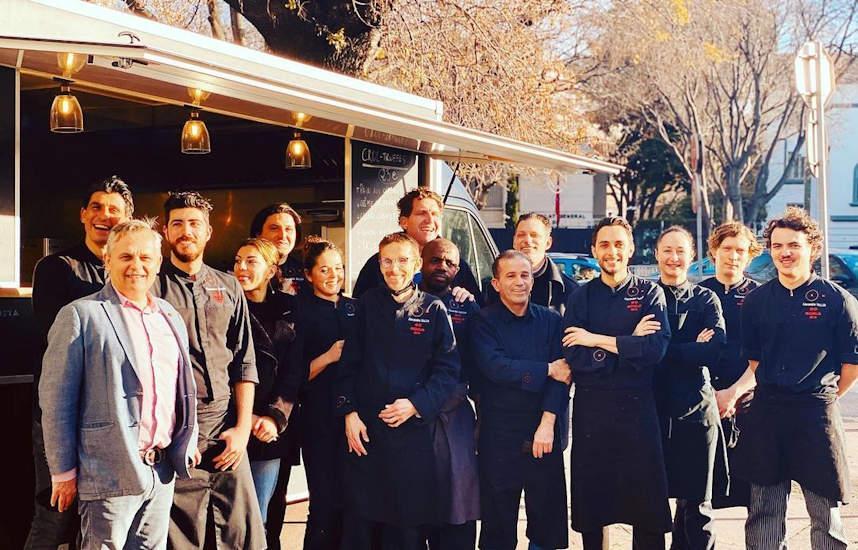 During the Covid-19 pandemic, Alexandre Mazzia decided to operate his restaurant from a food truck, rather than closing down the restaurant completely. The city of Marseille was particularly hard hit by the Coronavirus and a strict lockdown was enforced across the city. From his food truck, Mazzia served up to 200 basket meals per day for just €25 each. His restaurant also operated click and collect meal services. Although he was operating this restaurant service at a loss he stated that:
" . . . I don't want to be a victim if this lockdown, I want to keep my head above the water . . .
Mazzia's signature dishes include his smoked eel chocolate and algae popcorn. Lunches range from €115 to €265 and dinners cost between €215 to €345 (wine and drinks on top). Awarding Alexandre Mazzia his coveted 3rd Michelin Star, the Michelin Judges described his restaurant and cooking as:
" . . . transporting Diners on a culinary voyage like no other . . . evoking a culinary identity shaped by memories of a childhood spent in the Congo . . ."
SOURCE: 2021 Michelin Guide France
You will find AM by Alexandre Mazzia at 9 Rue François Rocca, 13008 Marseille, France. For reservations call +33 (0) 4 91 24 83 63 or email: This email address is being protected from spambots. You need JavaScript enabled to view it.. Website: AM par Alexandre Mazzia.
Restaurant Signature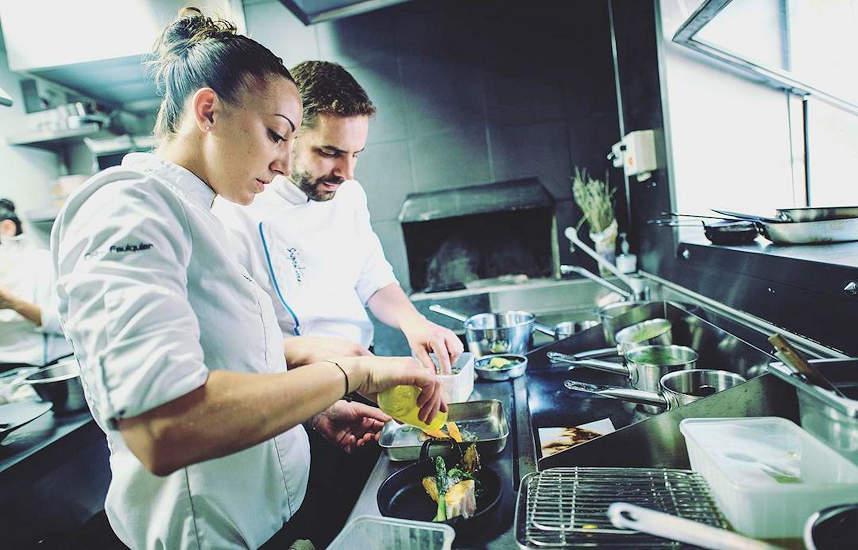 Restaurant Signature is run by the dynamic young chef, Coline Faulquier. Like Alexandre Mazzia's restaurant, Restaurant Signature is located in a residential area of Marseille, in the neighbourhood of Le Rouet. Faulquier only opened her restaurant in 2019, but in January 2021, she was awarded her first Michelin star, as well as scooping the coveted title of "Young Chef of 2021".
Coline Faulquier was born in Burgundy but she moved to Avignon in South France when she was young. She did her initial training in Avignon and Montpellier, before completing a Bachelor degree in Culinary Arts at the famous Ferrandi School in Paris. She then worked with a range of celebrated chefs including Olivier Nasti (La Table d'Olivier Nasti a 2 star restaurant in Franche-Comté in Eastern France), Éric Frechon (the 3 star Épicure at Le Bristol hotel in Paris) and Jean-Louis Nomicos (who runs the Michelin star Les Tablettes Jean-Louis Nomicos restaurant in Marseille).
In 2012, Faulquier left Paris and joined the 2 star Montecristo restaurant run by Christophe Bacquié, at the Hôtel du Castelet in Provence. After the birth of her son, she set herself up as a Private Chef, working throughout Southern France.
In 2016 she was a finalist on the Top Chef TV programme in France (the equivalent of Masterchef) and in 2017 she was named "Young Chef of the year" by the Gault & Millau guide.
Still only 31 years old, Coline Faulquier, has been running her Signature restaurant for 2 years. The restaurant offers a number of smaller half-portion options which enable you to sample several dishes off the menu during a meal. What I especially like about the restaurant is the fact that it just opens during the week (Monday to Friday from 12 p.m. to 1:30 p.m. and Tuesday to Friday from 8 p.m. to 9:30 p.m.). It is a tough game making a living from a restaurant, especially since this bloody Covid pandemic, so I think that it is great that Faulquier puts her family first and gets to enjoy her weekends.
In awarding Faulquier her first Michelin star, the Michelin guide described Signature as:
. . . in all respects, a restaurant to be highly recommended. The ingredients are carefully selected – produce from organic market gardeners, wild herb gatherers, Mediterranean fish etc . . .
You will find Restaurant Signature at 180 Rue du Rouet, 13008 Marseille, France. For reservations call +33 04 65 85 53 48. Website: Signature Restaurant.
King of the Languedoc Chef's: Gilles Goujon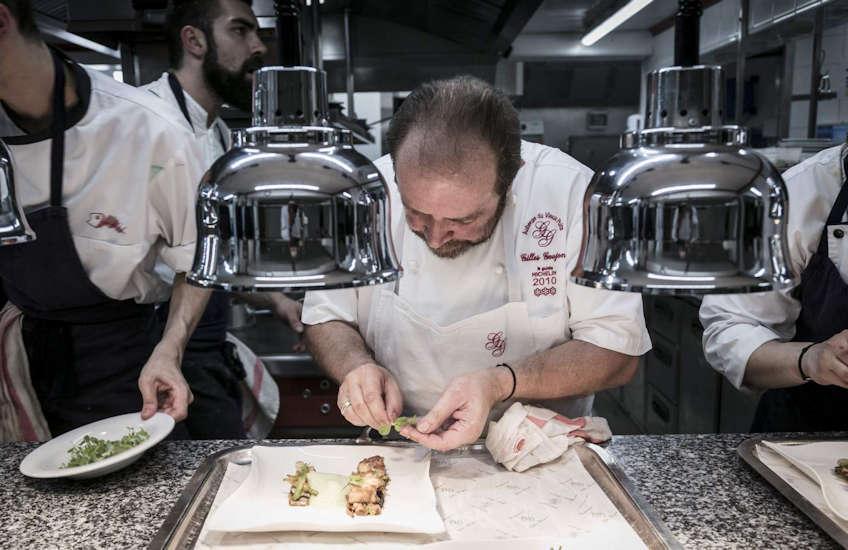 Gilles Goujon [Photo courtesy of Auberge du Vieux Puits restaurant]
The king of Languedoc chef's is Gilles Goujon. With a name like Goujon, you cannot go wrong. Also, with no disrespect to Mr Goujon, he is in no danger of breaching that old adage, never trust a thin chef.
If you love fabulous food and wine, then there can be no better restaurant in the South of France than the Auberge du Vieux Puits. This 3 star Michelin restaurant is excellent. Hard to find, but excellent.
In 2020, the restaurant was awarded the title of Best Gourmet Restaurant in the World, by Tripadvisor, based on the review ratings left by customers in the previous 12 months. Gilles Goujon makes regular appearances on TV in France, often appearing on the programme Top Chef (the equivalent of Masterchef).
Gilles Goujon was born in Bourges in the Centre of France, but he later moved to Beziers in the Languedoc. He started off as a waiter in a small restaurant in Beziers, but his real break came when he started working for Roger Vergé who hired him at his 3 star restaurant, Le Moulin de Mougins in Cote d'Azur. He later worked at the 2 star Petit Nice restaurant in Marseille and then Gérard Clor's restaurant L'Escale in Carry-le-Rouet .
He opened the Auberge du Vieux Puits in 2010 in the tiny hamlet of Fontjoncouse in the rural department of the Aude, in Southern France. It gained its first Michelin star in 1997, a second in 2001 and then 3 Michelin stars in 2015. In 2016 the Auberge du Vieux Puits broke into the Top 10 of the Best restaurants in the World and it has remained there ever since.
It must be 10 years now since I visited the Auberge du Vieux Puits and I can still remember it to this day. The food was amazing and it was paired so well with the Corbieres wines that they served. I do remember closing my eyes when the bill came, but in hindsight it was worth every penny. I could have had 3 mediocre (and instantly forgettable) meals for the same price. So it really taught me a lesson to go for quality over quantity when it comes to eating out.
Gilles Goujon doesn't really have a signature dish or style. He uses mainly local cuisine in his restaurant, taken directly from his garden. Simple products such as cabbage, tomatoes and seasonal vegetables & fruits are often the stars of the show. He also sources local lamb, fish and seasonal game (wild boar, hares, quail, woodcock).
You will find the Auberge du Vieux Puits in the middle of the Corbieres Hills in the tiny village of Fontjoncouse. The restaurant is not even on the main street in the village and there is only one street in Fontjoncouse! Your best bet is to visit the website below and ask for directions.
The restaurant is open most days (but I would be careful about going on a Monday, as this is the day that most restaurants close in France). We went on a Sunday afternoon and I think that the restaurant is closed Sunday evening. It is often recommended to make a reservation at least 2 months in advance - but try giving them a call just on the off-chance if you are here on holiday.
Auberge du Vieux Puits restaurant Languedoc France
Address: 5 Avenue Saint-Victor, 11360 Fontjoncouse
Telephone: 04 68 44 07 37
Website: Auberge du Vieux Puits restaurant Languedoc
Sebastien Jullien - Le Very-Table restaurant, Neffies, Languedoc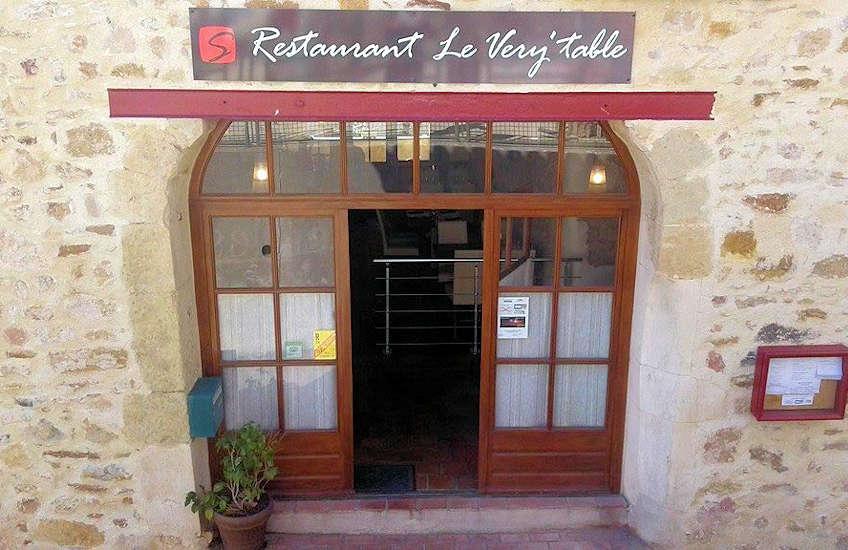 I would also like to give a shout out to Sebastien Jullien at his restaurant Le Very'Table in the small village of Neffies, close to Pezenas. This is where we choose to go out to eat with friends and family. It is not expensive at all and I have never had a bad meal there. I have probably eaten at Le Very'Table 15 times in all and we have taken both French and English friends and they have all licked the plates clean. It is the sort of place you make a reservation for a week in advance and you look forward to it all week. It is my son Cameron's favourite restaurant and we always know if he is getting serious with a girlfriend, because he takes her to the restaurant. He has been there quite a lot.
This is a chef who knows what he is doing. He keeps the menu simple. The cooking is excellent, but his real touch comes with the presentation of the food. The plates are like works of art - but not in a sense of style over substance. Everything on the plate has a purpose: texture, flavour, seasoning. But it all looks so beautiful. This is what sets Sebastien Jullien apart from the local competition.
The restaurant is small, just 30 covers and it is located in a beautiful old barn in the centre of this wine-making village. The original definition of a Michelin grade restaurant was one " . . . that you should make a special detour for . . .". I would say that this sums up Le Very'Table perfectly. If you are in the Languedoc area on a Sunday, then do ring ahead and order Sebastien's Bouillabaisse. It is to die for. He originally trained in Marseille and he definitely picked up the knack for cooking this typical Southern French fish stew. It takes him 72 hours to prepare all the ingredients for the Bouillabaisse. So you need to reserve it well in advance (the Tuesday or Wednesday before), so that he can .
All restaurants are struggling at the moment, but when you are a small restaurant like Le Very'Table, where your whole livelihood depends solely on the income from the restaurant (Sebastien's wife runs the front of house), then they need our support. If we lose local gems like Le Very'Table, then we will not have any future Auberge du Vieux Puits. And trust me, this chef will be as good as Gilles Goujon in a few years.
Le Very'Table restaurant
Address: 6 Rue Saint-Alban, 34320 Neffiès, Languedoc, France
Telephone : 04 67 24 07 86
Tags: French restaurants, Cote d'Azur, Provence France, Languedoc South France, South France