Best restaurants in Marseille France to visit 2021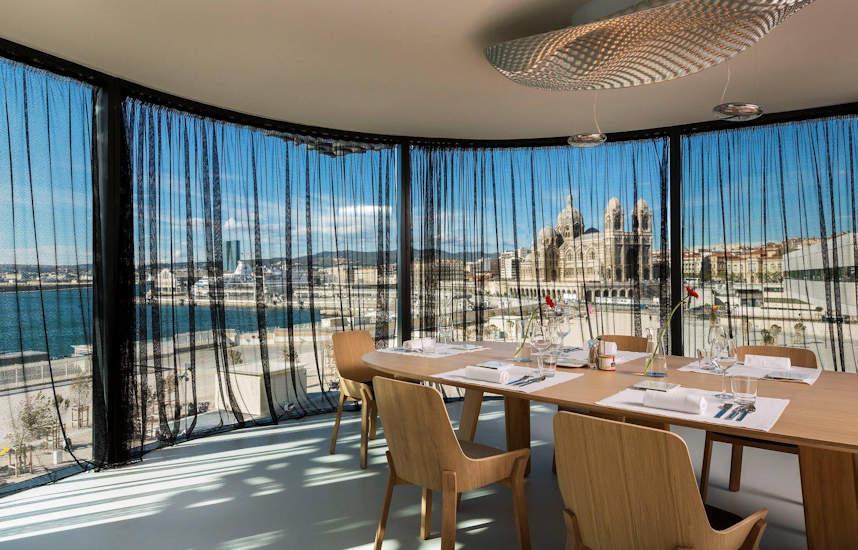 Photo courtesy of Le Mole restaurant Marseille, France [https://www.facebook.com/RestaurantLeMole]
The Southern France city of Marseille has a reputation as an eclectic gastronomic capital, famous for its celebrated Bouillabaisse fish stew dish. There are many excellent restaurants in Marseille, including two 3 Michelin star restaurants and 4 one star Michelin restaurants. You will also find interesting restaurants from the many different culinary traditions in Marseille: Tunisian, Senegalese, Moroccan, Lebanese, Algerian, Indian and Morrocan. It is impossible to cover all the restaurants in Marseille. I would just like to highlight a handful of stand-out restaurants to visit in 2021.
This port city on the Mediterranean coast in South France has been welcoming visitors from other cultures for over 3 millennia. Marseille was founded by the Greeks as a trading port around 500 BC and was later developed by the Romans. Marseille later developed important trading routes with North Africa, China, India and South-East Asia. The city has always been a melting pot of different cultures, each bringing a different cuisine.
Marseille really is the Immigrants city. Over one third of the population has some Italian heritage and 10-15% of the population has roots in the Maghreb countries (Morocco, Algerian, Tunisia and Lebanon). Thus in Marseille, you will find restaurants serving food from Vietnam, Corsica, Armenia, Turkey, Senegal, Lebanon, India, China, Morocco and even from the Comorian Islands (a former-French island off the coast of Mozambique).
Such is the breadth of the population of Marseille, there is even some debate about whether Marseille's famous Bouillabaisse owes its roots to the Italian brodetto di pesce dish or the Greek kakavia stew or as it is traditionally claimed, just poor local fishermen's wives cooking up the leftovers from the days catch.
The best: 3 Michelin star restaurants Marseille, France
The recently published 2021 edition of the Michelin Guide contains two three star restaurants in Marseille. For a long time, Marseille only had one restaurant which had been awarded the highest accolade of 3 Michelin stars, but this has now been joined by a second restaurant in the city.
Le Petit Nice - 3 star Michelin restaurant Marseille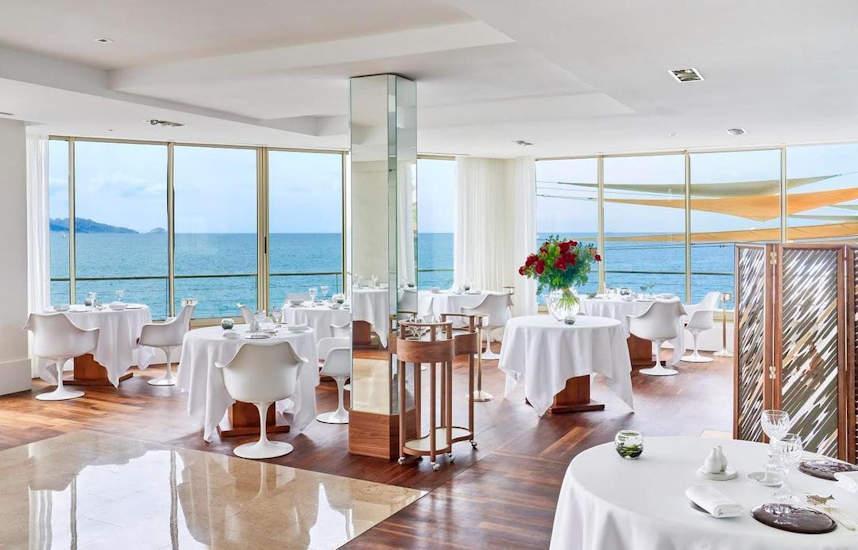 Photo courtesy of Le Petit Nice restaurant Marseille [https://www.passedat.fr/]Marseille's flagship restaurant is Le Petit Nice, which has held a Michelin star since 1979. This 3 star Michelin restaurant is run by Gérald Passedat, who is especially noted for his innovative fish dishes, which appear simple on the plate, but hide a complex range of flavours.
The Le Petit Nice restaurant is located within the 5 star hotel of the same name, which has been operated by the same Passédat family since 1917. The restaurant was founded by Gérald's grandfather in 1917. Germain Passédat was a celebrated patissiere in Marseille and he bought an imposing villa on the rocky headland, close to the centre of Marseille, which he then converted into an upmarket restaurant.
The restaurant passed down to his son Jean-Paul Passédat in the 1950's, who along with his wife, transformed the restaurant into a luxury hotel. Jean-Paul Passédat obtained his first Michelin star in 1979 and was then awarded a second star in 1981.
Jean-Paul's son took over the running of the restaurant in 1985 and in 2008 Le Petit Nice became the first 3 Michelin star restaurant in Provence. Gérald Passedat is a classically trained Chef in his own right and gained experience working at some of the most celebrated French restaurants in Paris (such as L'Épicure restaurant in the Bristol Hotel) and the 3 Michelin star Les Frères Troisgros restaurant in the Loire Valley.
The setting of the restaurant is quite unique. The restaurant is literally perched on the cliff overlooking the Mediterranean sea, with the islands off the coast of Marseille in the distance.
You can find Le Petit Nice restaurant at Anse de Maldormé,Corniche JF Kennedy, 13007 Marseille, France. For reservations call +33 (0)4 91 592 592 or email: This email address is being protected from spambots. You need JavaScript enabled to view it.. More information can be obtained from the website: Le Petit Nice.
AM par Alexandre Mazzia - Michelin 3 star restaurant in Marseille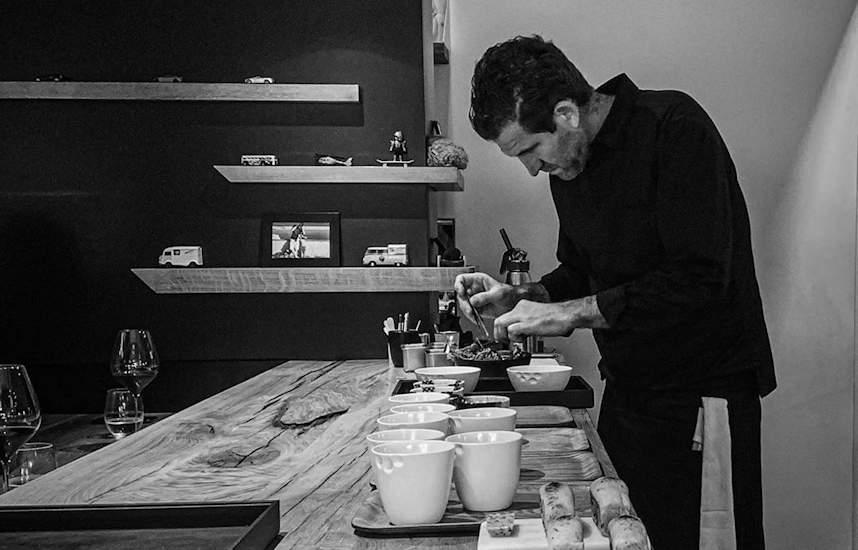 Alexandre Mazzia, AM restaurant 3 Michelin stars [Photo: www.instagram.com/alexandremazzia/]
AM par Alexandre Mazzia is the latest restaurant in Marseille to be elevated into the elite group of restaurants around the World with 3 Michelin stars. The restaurant is located in a residential area of Marseille (Saint-Giniez), close to the stunning Orange Vélodrome, home of Olympique Marseille football team.
Awarding Alexandre Mazzia his coveted 3rd Michelin Star, the Michelin Judges described his restaurant and cooking as:
" . . . transporting Diners on a culinary voyage like no other . . . evoking a culinary identity shaped by memories of a childhood spent in the Congo . . ."
SOURCE: 2021 Michelin Guide France
The celebrated chef, Alexandre Mazzia, opened his restaurant in Marseille in 2014. Mazzia was a former professional Basketball player (who played for the local Marseille team). The concept of the restaurant is that each course comprises a collection of small individual dishes, each of which conjures up the tastes, aromas and memories from his life growing up in a small coastal town in the Republic of Congo in Africa.
At the same time as playing professional Basketball (2001 to 2007) Alexandre Mazzia also trained as a chef and he worked at a number of celebrated Michelin starred restaurants in France and Spain, including at Michel Bras' Laguiole restaurant in Aveyron, France, Santi Santamaria's ABaC restaurant in Barcelona and Martín Berasategui's Restaurant Lasarte-Oria near Saint-Sébastian.
The signature dishes at AM par Alexandre Mazzia include the quirky smoked eel chocolate and the extraordinary algae popcorn. Meals at the restaurant range from €115 to €265 for lunch and €215 to €345for evening dinners (wine and drinks on top).
You will find AM by Alexandre Mazzia at 9 Rue François Rocca, 13008 Marseille, France. For reservations call +33 (0) 4 91 24 83 63 or email: This email address is being protected from spambots. You need JavaScript enabled to view it.. Website: AM par Alexandre Mazzia.
2 Michelin star restaurants Marseille France: La Villa Madie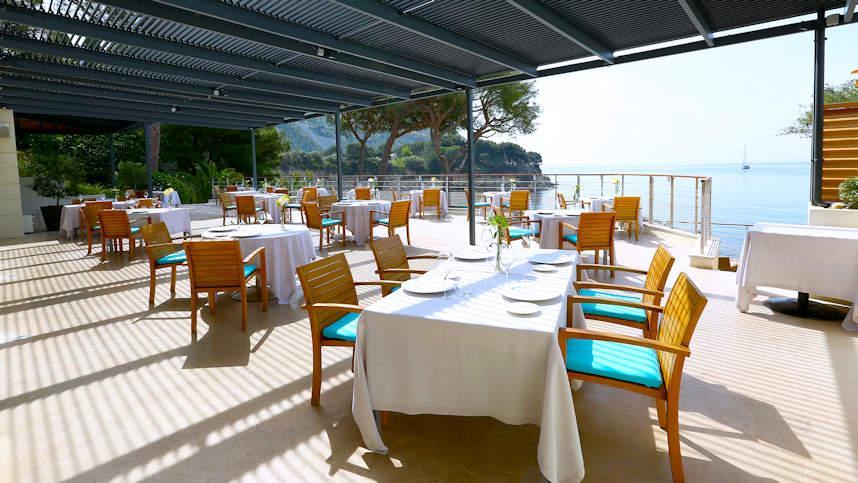 A 2 star Michelin restaurant is defined by the Micheline guide as "exceptional cuisine, worth a detour". This sort of seems to be a bit of an underwhelming definition for what it represents.
A short drive along the coast from Marseille, you will find the 2 Michelin star restaurant of La Villa Madie. Located in a beautiful spot in the pretty coastal town of Cassis, La Villa Madie restaurant gazes out over the Mediterranean sea. The restaurant is run by the husband and wife team of Dimitri Droisneau who grew up in Normandy and his wife Marielle, who hails from the countryside of Aveyron in Central Southern France.
Dimitri Droisneau trained at some of the top restaurants in Paris such as La Tour d'Argent, Le Lucas Carton and Le Bristol. After Paris, Dimitri moved to the South of France, becoming Head Chef at La Réserve de Beaulieu on the French Riviera and this was where he met his future wife.
Marielle first gained her front-of-house experience at the restaurant of the celebrated French chef, Michel Bras (the 3 Michelin star Laguiole restaurant) in her native Aveyron, France. She then worked for a number of Michelin star chefs including Michel Guérard, Marc Veyrat and finally, Martin Berasategui and at La Réserve de Beaulieu.
The Michelin Guide review of La Villa Madie states:
". . . between the Aveyronnaise and the Normandy union, the duo offers a high-level gastronomic experience, mixing original recipes and surprising marriages. On the enchanting terrace, in front of the expanse of the sea, we delight in the fine and striking recipes of Dimitri, who draws from the treasures of the Mediterranean . . ."
SOURCE: 2021 Michelin Guide France
La Villa Madie is located on the eastern side of Cassis, just underneath the enormous cliffs that frame the town. The large terrace in front of the restaurant offers panoramic view across the Mediterranean sea. The menus range from a 4 course menu at €75 and an 8 course signature menu at €285. The signature menu includes an Appetizer, 6 dishes, a cheese plate and 2 desserts. Amongst Dimitri's signature dishes, are Grilled Mediterranean Royal Lobster with a Saffron Broth, Grilled Calamari and Red Mullet with a "Calanques vinaigrette", Rabbit and Palamos Prawns with a Provencal sauce and Veal sweetbreads with celery root, black truffles and lemon zest.
You will find La Villa Madie at Avenue de Revestel-anse de Corton, 13260 Cassis, France. For reservations call +33 04 96 18 00 00, by Email : This email address is being protected from spambots. You need JavaScript enabled to view it. or consult the website La Villa Madie Cassis French restaurant.
1 Michelin star restaurants Marseille, France
Marseille has a total of four restaurants which have been awarded one Michelin star. The restaurants include the highly acclaimed fine dining restaurant, Alcyone; the L'Épuisette restaurant which is located in a beautiful spot, perched on the cliffs overlooking the sea; and Saisons restaurant, a small bistro restaurant in the Castellane district of Marseille. For many years the city only had these 3 Michelin restaurants, but in 2021 a new restaurant was elevated to this prestigious group, the exciting Signature restaurant.
Restaurant Saisons Marseille France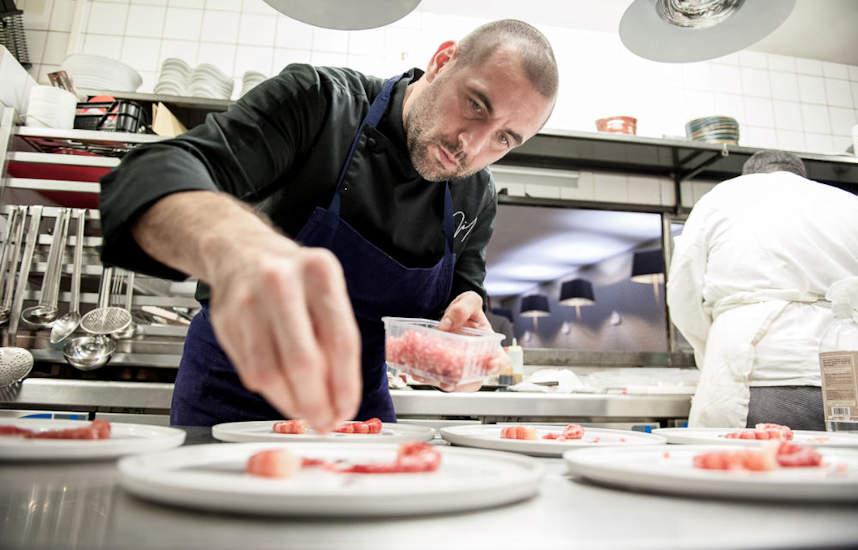 Restaurant Saisons is located right in the heart of Marseille, in the Castellane district, close to the Palace Castellane. The restaurant is run by the Head Chef, Julien Diaz and the decorated wine sommelier, Guillaume Bonneaud. Julien Diaz gained experience working in London, before coming to prominence at L'Épicerie restaurant in Corsica.
The Saisons is only a small restaurant, with just 30 covers. The menus at Saisons are actually quite reasonably priced, ranging from €29 for a lunch menu to €129 for the 7 course Langouste menu.
You will find Saisons restaurant at 8 rue Sainte-Victoire, 13006 Marseille, France. For reservations call: +33 9 51 89 18 38 or email at: This email address is being protected from spambots. You need JavaScript enabled to view it. or consult the website: Restaurant Saisons.


Signature - Michelin star restaurant Marseille France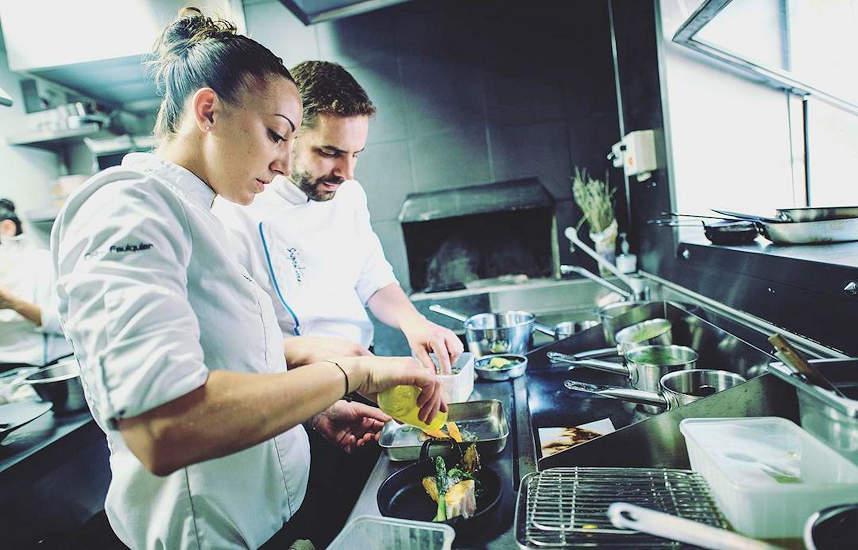 The newest Michelin star restaurant in Marseille is run by the dynamic young chef, Coline Faulquier. Like Alexandre Mazzia's restaurant, Restaurant Signature is located in a residential area of Marseille, in the neighbourhood of Le Rouet. Faulquier only opened her restaurant in 2019, but in January 2021, she was awarded her first Michelin star, as well as scooping the coveted "French Young Chef of 2021" title.
The Signature restaurant offers a number of smaller half-portion options which enable you to sample several dishes off the menu during a meal.
Coline Faulquier was born in Burgundy but she moved to Avignon in South France when she was young. She worked with a range of celebrated chefs including Olivier Nasti (La Table d'Olivier Nasti a 2 star restaurant in Franche-Comté in Eastern France), Éric Frechon (the 3 star Épicure at Le Bristol hotel in Paris) and Jean-Louis Nomicos (who runs the Michelin star Les Tablettes Jean-Louis Nomicos restaurant in Marseille).
In 2012, Faulquier left Paris and joined the 2 star Montecristo restaurant run by Christophe Bacquié, at the Hôtel du Castelet in Provence. In 2016 she was a finalist on the Top Chef TV programme in France (the equivalent of Masterchef) and in 2017 she was named "Young Chef of the year" by the Gault & Millau guide.
You will find Restaurant Signature at 180 Rue du Rouet, 13008 Marseille, France. For reservations call +33 04 65 85 53 48. Website: Signature Restaurant.
The best of the rest - restaurants in Marseille France
Here is a selection of excellent restaurants to try in Marseille during your visit. I have tried to highlight the range of different cuisines which have made their home in Marseille on account of the rich heritage of immigrants that have come to the city.
Yima - Algerian restaurant Marseille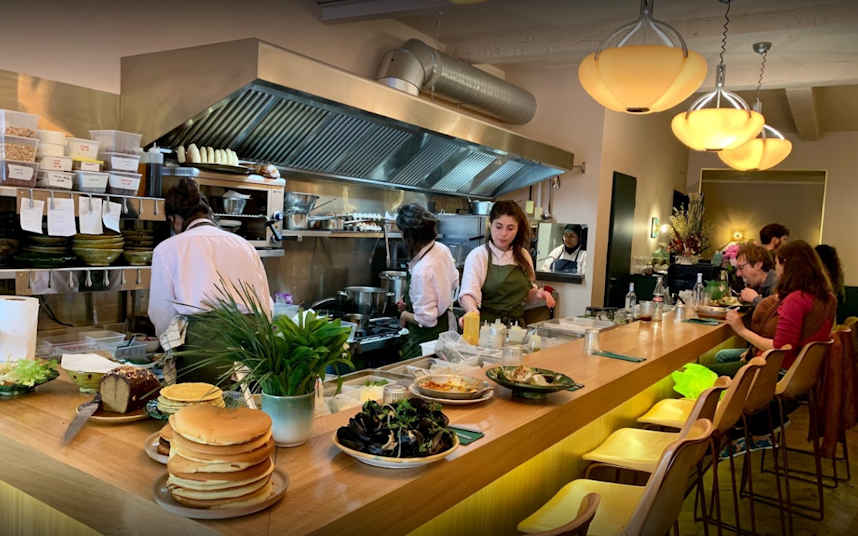 Another former Top Chef contestant, who is making her name in her native Marseille, is Ella Aflalo. Her Yima restaurant is comprised of an all-female kitchen, including an Algerian grandma who makes traditional pastries.
Yima restaurant is set in the heart of the Noailles neighbourhood in central Marseille, just a stone's throw from the Port. The local shops along the rue d'Aubagne serve a whole range of different spices, vegetables and herbs coming from around the world. The restaurant matches this; with dishes coming from a range of Algerian, Arabic and Mediterranean influences. Her dishes blend Mint, Dill, Black Cumin, Lemon oil, Coriander, Parsley and Harissa.
The menu features wonderful dishes like Sea Bass with Zaatar (a Middle Eastern spice similar to Thyme and Sesame); Roasted Octopus with a chick pea confit; Beef Koftas with Labaneh; and her mother's own recipe for Shakshouka - a traditional North African dish of poached eggs in tomatoes with cumin, paprika, cayenne pepper, and nutmeg.
You will find Yima restaurant at 27 Rue d'Aubagne, 13001 Marseille, France. For reservations call +33 4 91 55 70 13 or visit the website: Yima restaurant Marseille.
La Mercerie restaurant Marseille - the next big thing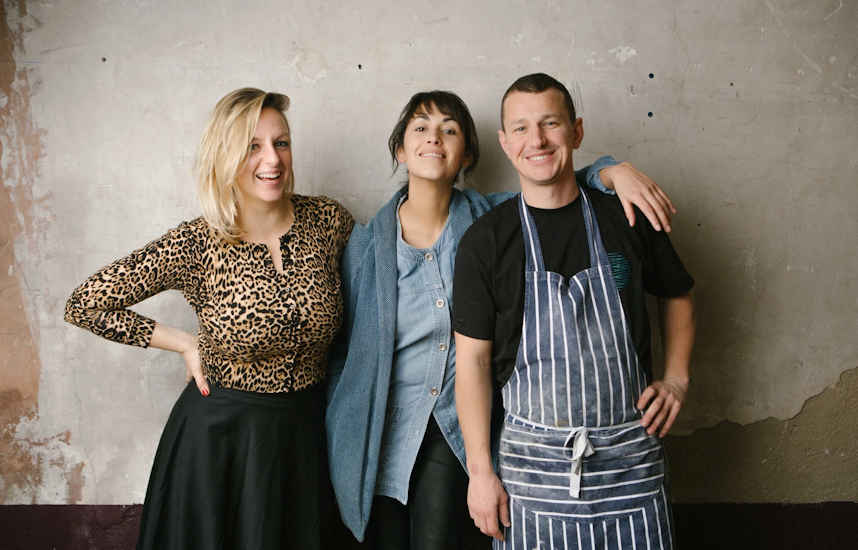 La Mercerie restaurant Marseille [Photo courtesy of www.lamerceriemarseille.com]I would also like to give a shout out to a restaurant which I think will be the next big thing in Marseille. La Mercerie is run by a trio of foodies that arrived in Marseille by way of Paris, from England and Canada. The trio all met in Paris and together they founded the award-winning Paris Pop-up restaurant. In 2016, they all moved to the South of France and set up the Chardon restaurant in Arles. In 2018, they established La Mercerie in Marseille.
The Head Chef at La Mercerie is Harry Cummins who trained with the Michelin star chef, Anthony Demetre, at his Wild Honey and Arbutus restaurants in London (Demetre is a contemporary of Gary Rhodes, Raymond Blanc and Marco Pierre White). He arrived in France in 2011 and has remained here ever since.
Harry founded the Paris Pop-up with the wine Sommelier, Laura Vidal. Laura hails from Montreal, Quebec, and she worked and trained as a Sommelier at Gregory Marchand's Michelin star Frenchie restaurant in Paris (Gregory Marchand worked alongside Jamie Oliver in London and the celebrated French chef Alain Ducasse in Paris). In 2020, Laura Vidal became the first woman in 50 years to be awarded the "Best Sommelier of the Year" by the higly respected Gault et Millau guide.
The final member of the trio, is Julia Mitton, a Canadian who has run a number of pop-up restaurants in France. Julia manages the front of house and the general management of the restaurant. She gained her restaurant experience during her involvement in the Experimental Group who run a chain of boutique hotels, clubs and concept bars in Paris, Venise, Ibiza and New York.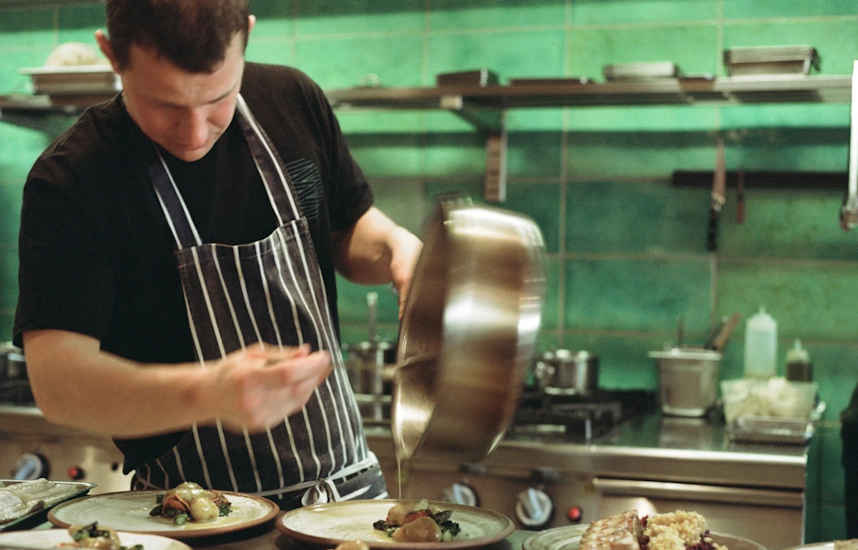 Harry Cummins [Photo courtesy of www.lamerceriemarseille.com]
La Mercerie features an eclectic mix of dishes, with inspiration drawn from all parts of the World. The common denominator however, is the use of the freshest possible ingredients. Hence the menu changes daily depending on what is available in the local markets and what catches Harry's eye.
La Mercerie is very reasonably priced considering the quality of food on offer. You can have a lunch for €28 euros and they serve an excellent 5 course evening meal for just €51 euros. Laura Vidal also offers an additional taster wine menu at €35 euros, which provides an accompanying paired wine with each course.
You will find La Mercerie restaurant at 9 Cours Saint Louis, 13001, Marseille, France; just on the edge of the Noailles district, close to the Vieux-Port. Call +33 4 91 06 18 44 for reservations or visit La Mercerie Marseille for more details and opening times.
Le Kashmir Lounge Indian restaurant Old Port Marseille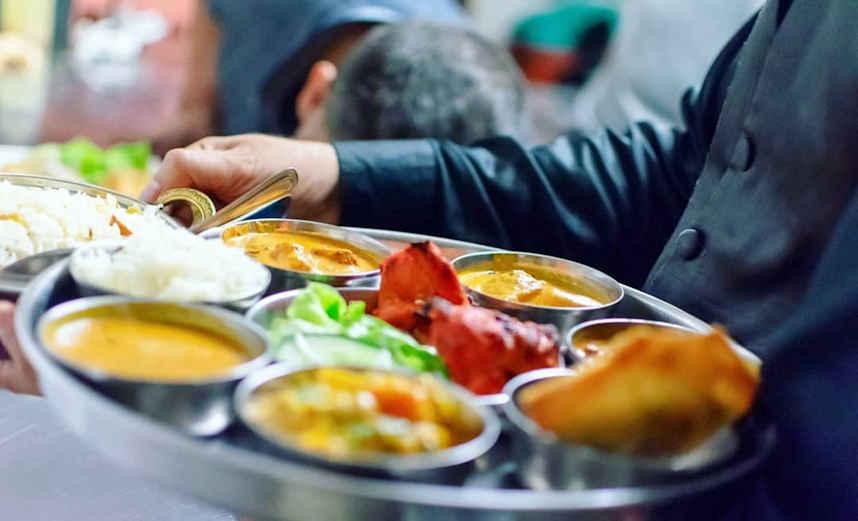 There are over 20 Indian and Pakistani restaurants in Marseille, a testament to the old trade links between France and the Indian subcontinent. Marseille was an important port for importing spices into France and the French government maintained 5 key trading posts in India in the 17th and 18th centuries under the French East India Company. One of these, Puducherry in Tamil Nadu, is still an important destination for French tourists.
I was over in Marseille early last year to watch Olympique Marseille play a game at the fabulous new Vélodrome football stadium. I went with a couple of French friends and after the match we went to the Old Port in Marseille. Parts of the Vieux-Port are a bit hairy-scary at night, but the area around the Quai Rive Neuve (which is on the left hand side of the port as you look out to the sea) is a really nice area. There are lots of bars and restaurants here and it is real mixture of trendy young people, couples and families.
I hadn't had a curry in months and as we are walking round, I spot this Indian restaurant. Now, when we have our French friends over for dinner, if you put black pepper on the food they complain that it is too spicy. But fair game to them, they said that they would try a curry for the first time. Well they were blown away. They absolutely loved it.
I have to say, it was the best curry I have eaten in a long, long time. The service was excellent and there was a good mix on Indian and Pakistani dishes on the menu. My wife was pleased because the toilets were nice and clean (which is always her benchmark for a good restaurant). The interior is a bit over-the-top, but our friends really loved that. The meal was also really reasonable, considering we were in the heart of the city.
You will find Le Kashmir Lounge at 18 rue de la Paix Marcel Paul, 13001 Marseille, France. For reservations call +33 4 91 54 99 72. Website: Kashmir Lounge Marseille.
Couleur Grenade Armenian restaurant Marseille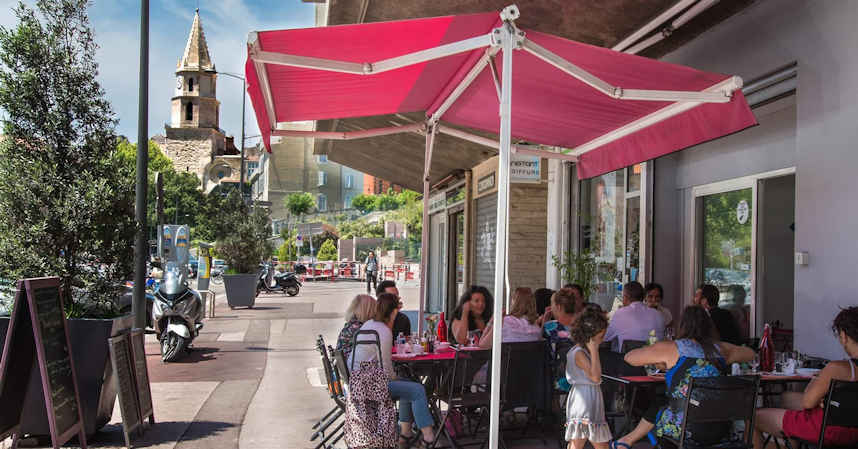 Marseille has a large Armenian population, that originally came to the city during the 17th and 18th centuries and then in much greater numbers as refugees after the Armenian genocide in 1915 and then the subsequent annexing of the country by Soviet forces and further invasions by Turkish nationalists in the 1920s. It is estimated that up to 10% of the population of Marseille has Armenian heritage (and around 600,000 Armenians are said to live in France as a whole). Many Armenians were prominent members of the French Resistance around Marseille.
As a result there are a number of popular Amenian restaurants in Marseille. If you have never tasted Armenian food you should definitely give it a try. My son has a friend (Aris) whose family comes from Armenia and he cooks some wonderful food. He cooks an amazing dish called Borek which he makes from filo pastry filled with feta cheese and then fried. He also brought over some lamb meatballs (Kofta) and a ravioli-type pasta dish.
Armenian food is a cross-over between Mediterranean dishes and Turkish and Persian food, with some elements coming from the Balkans and even Russia. So it uses a lot of lamb, in dishes like Greek Koftas and it has desserts similar to Turkish (Baklava and Halva). You will also find Shish Kebabs made from chicken, lamb and fish. It also shares similar Mezze dishes to Lebanese cuisine, such as tabouleh, hummus and moutabal (although there are slight variations).
There are 16 Armenian restaurants in Marseille, most are congregated in the centre of Marseille, where the original refugees located themselves, but there are also a number of restaurants in the suburbs of Marseille as the second generation of Armenians spread out into areas such as Mazargues, La Panouse, Saint-Marcel and near the 13th Arrondisement (in the North of the city).
One of the most famous places for Armenian food in Marseille is the Délices d'Arménie which is located in the 8th arrondissement in Marseille close to Avenue du Prado. When we were in Marseille early last year, we stayed near to here and we walked down to the restaurant, but unfortunately it was closed. From the outside it looks like a take away, with a big sign advertising Armenian pizzas and kebabs. But inside you can see that there is a nice restaurant and the menu contains many traditional Armenian dishes. You can find Delices d'Armenie on 5 Rue Pierre Dupré, 13008 Marseille. For reservations call: +33 4 86 77 56 42.
If you want to taste real authentic Armenian food, then you should head to the Couleur Grenade Restaurant. Couleur Grenade restaurant is located just a block away from the Old Port in Marseille and it is famous for its friendly service and the owner (Delphe Gayoushka - known to everyone as Gayanée or Gaya for short) is passionate about her food. A lot of customers come back just to hear Gayanée singing away and whistling in the kitchen as she prepares her food.
You can find Couleur Grenade Armenian restaurant at 36 Grand Rue, 13002 Marseille, France. For reservations call +33 7 50 82 37 39.
Chez Yassine - Tunisian restaurant Marseille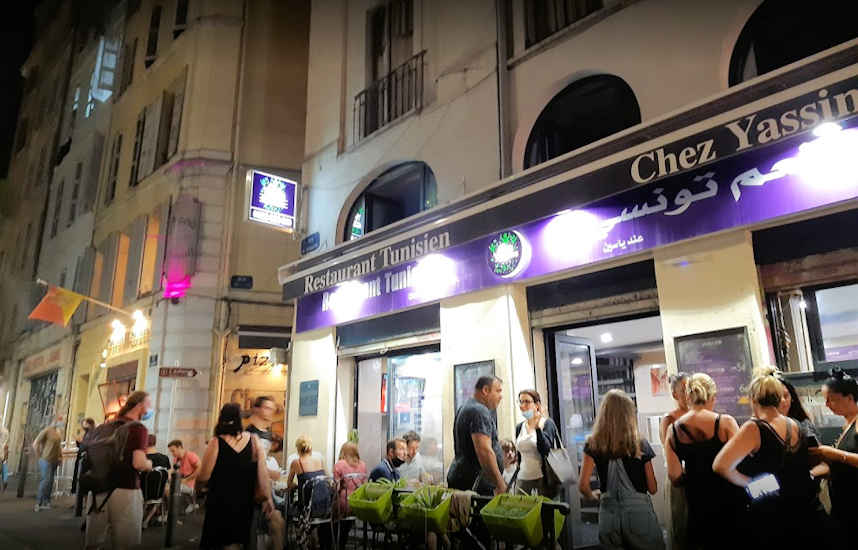 Chez Yassine is a firm fixture on the Marseille food map. I once saw it described as the ". . . temple of Tunisian food in Marseille . . .", which I think sums it up pretty well. Chez Yassine started life as a family-run snack bar that served the large Tunisian population centered around the Noailles district, close to the port in Marseille.
This restaurant is popular at all times of the day, but it comes alive during the evening, with both people eating in and young folk grabbing a take away to eat on the street.
The dishes served here include Tunisian Lamb with Couscous; Leblebi - a Tunisian chick pea soup; Spaghettis Fruits de Mer (not only Italy lays claim to spaghetti); and the perennially popular Sandwich Kefteji - a combination of tomatoes, courgette, peppers, potatoes and chips served in an open bread. The restaurant doesn't serve alcohol, but you can always smuggle in a bottle from one of the neighbouring stores.
Chez Yassine is located is the heart of the Noailles neighbourhood in central Marseille. You will find it at 8A Rue d' Aubagne 13001 Marseille, France. For orders call: +33 09 80 83 39 13.
Pizza Charly - Italian take-away/restaurant Marseille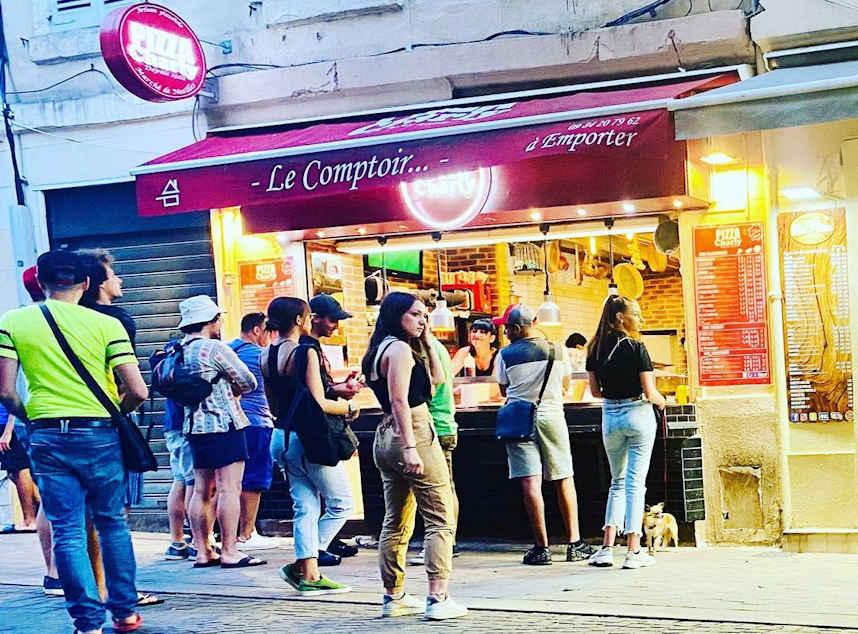 Around one third of Marseille's population is estimated to have Italian heritage. One of the oldest Italian eateries in Marseille is Pizza Charly which was first established in 1962 by a couple who came to Marseille from Naples and Algeria. Their son continues to run the restaurant and take away service. Pizza Charly has become a real institution in Marseille.
Pizza Charly is located near to the old indoor market in the Noailles district of Marseille, close to the Old Port. Noailles has always been the neighbourhood where immigrant families from across the world, first settled in Marseille. Today you will find inhabitants from Vietnam, Tunisia, Morocco, Lebanon, Algeria, Senegal and even the Comoras Islands off the cost of Mozambique.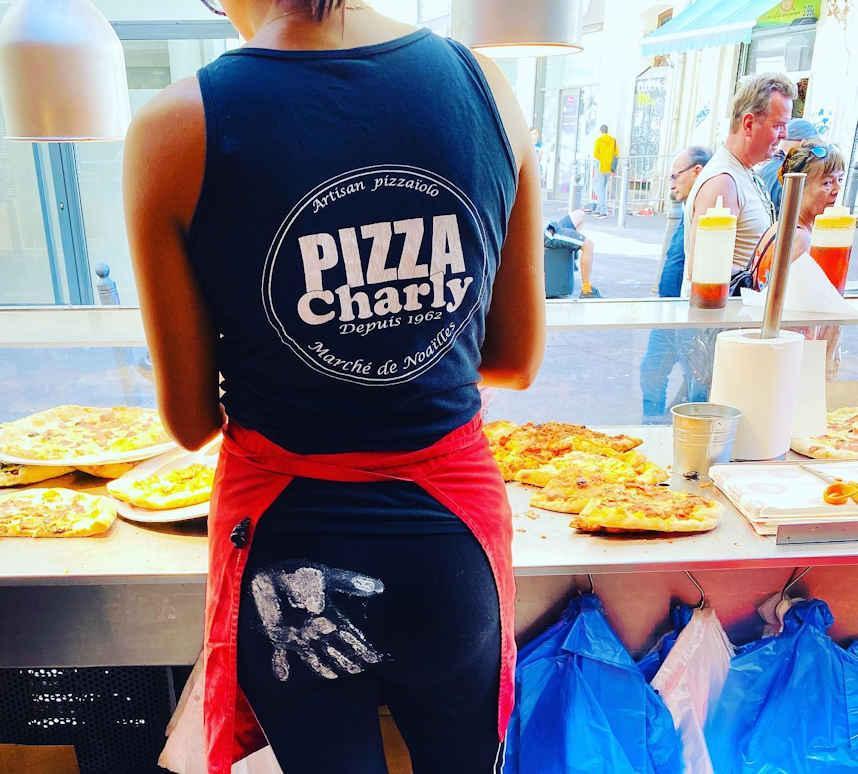 You will always find a queue of people outside Pizza Charly, no matter what time of the day. Thus it is busy serving students seeking food after a night out and also with the fanatical Marseille football fans, just before the games kick off. In between, you will find families and couples from the local neighbourhood either grabbing their pizza to eat on the street or sitting in the small restaurant inside.
The menu at Pizza Charly is also decidedly Marseillaise - with pizzas representing the different mix of cultures that have settled in the city. Thus, you will find Armenian Pizzas; a Merguez pizza, that references the Maghreb influence in Marseille; a Catalan Pizza, heavy with chorizo - which appealed to the large numbers of Spanish workers that came to Marseille; as well as the obligatory Neapolitan pizza.
You will find Pizza Charly at 24 rue des Feuillants Marche Noailles, 13001 Marseille, France. For orders telephone: +33 9 84 20 79 62