Porquerolles Island restaurants in South France
The beautiful island of Porquerolles is located just off the coast of the French Riviera, close to Hyeres and Toulon. The island has a number of good restaurants ranging from beach snacks to traditional Provencal 4 star meals. Porquerolles (sometimes referred to as Ile de Hyeres, is the largest of the Golden islands and has one of the best beaches in France. The island has only one inhabited island and building is prohibited on Porquerolles since the French government acquired the island in the 1970s. Today the island is a national park and conservation area. To me it reminds me a bit of Martha's Vineyard, with wild windswept beaches, a lack of cars and people just chilling out.
The best way of reaching Porquerolles is by boat from Toulon or from Hyeres (the TLV-TVM boat from La Tour Fondue). Once you are on the island the best way of getting about is to hire a bike (Le Cycle Porquerolles bike shop near the harbour will be able to sort you out with what you need).
Restaurants on Porquerolles Island France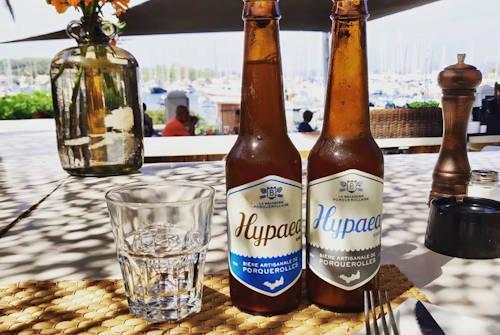 There are a good range of restaurants on Porquerolles, ranging from moderately priced snack bars to high end eateries.
Le Pelagos restaurant. A modern eatery with a tapas-style menu and outside eating at moderate prices.
Le Fly Deck restaurant. Traditional Provencale food, family friendly and family prices.
The Olivier restaurant, Le Mas du Langoustier - basically if you can afford to stay at the Mas du Langoustier, then you are not going to worry about the cost of the restaurant, but if you looking to just stop off for a meal, then it is certainly going to be a pricey affair. With a Michelin star, it is probably not too expensive for restaurants in it's class and the location is fabulous and it has a well-earned reputation for some the best Provençal and Mediterranean cuisine on the Riviera. Menus start from €65.