10 best restaurants Villefranche-sur-Mer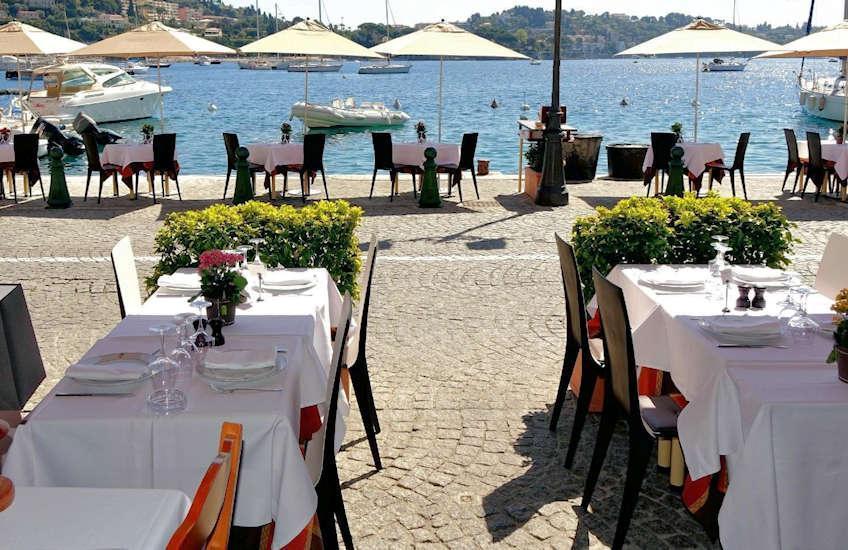 Villefranche-sur-Mer has over 30 restaurants ranging from high-end gourmet cuisine to snack bars. During the tourist season the restaurants in Villfranche can become very busy, so it is always advisable to book ahead. One of the pleasures of a seaside town like Villefranche, is wandering the streets and quays of the old town looking for a spot for lunch or dinner. But first, you need to find the best restaurants in Villefranche to eat at.
10 best Villefranche restaurants
Here is our list of the 10 best Villefranche restaurants
1. La Mère Germaine Villefranche-sur-Mer
La Mere Germaine is certainly the most famous restaurant in Villefranche and its bouillabaisse dish is often regarded as one of the best in the South of France. La Mere Germaine has been attracting visitors since before the Second World War and the French film maker and Artist, Jean Cocteau was a frequent diner. Its star has perhaps waned since its heyday, but La Mere still remains one of the best restaurants in Villefranche for seafood and fish. Set on the waterfront, La Mere restaurant still remains a pleasant dining experience.
2. L'Aparte restaurant Villefranche
L'Aparte restaurant is the new star of Villefranche. Set on a small side-street, just behind the bay, this small restaurant is run by two women who specialise in serving French and Contemporary food. L'Aparte restaurant has both indoor and pavement seating and a trimmed down menu selection of 8 dishes for each course. The menu price is pretty reasonable for Villefranche. The Soupe au Pistou is a speciality of the house.
3. Les Garcons restaurant in Villefranche
Les Garcons restaurant provides excellent French and European cuisine combined with friendly service and a very affordable prices. In front of the restaurant there is a lovely courtyard with outdoor seating for about 30 people. The Filet de Boeuf in a Bercy sauce is highly recommended. Les Garcons restaurant is located at 18 rue du Poilu, Villefranche-sur-Mer.
4. La Belle Etoile restaurant in Villefranche.
Tucked away up the main street in the old town of Villefranche, La Belle Etoile restaurant provides very good French Mediterranean food in a nice ambiance. The set menu starts from €29.
5. Le Mayssa Beach restaurant Villefranche-sur-Mer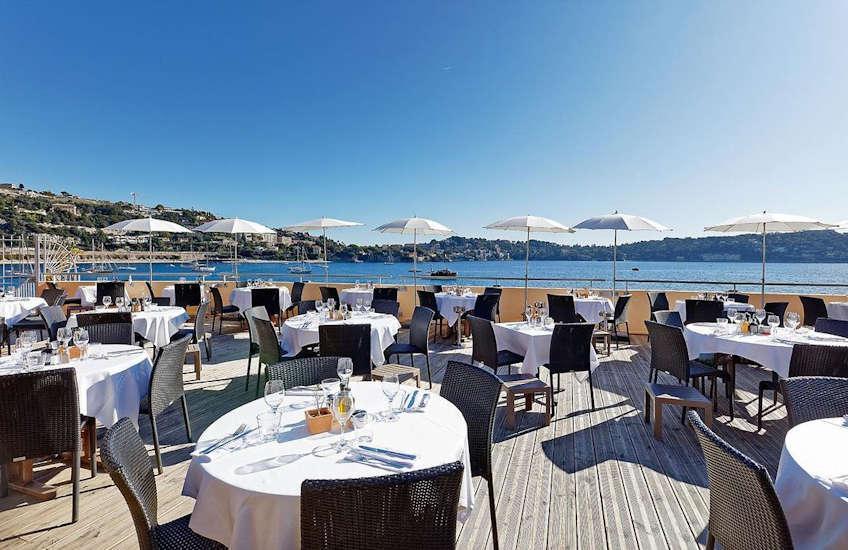 La Mayassa beach restaurant has a superb seaside location in Villefranche-sur-Mer and it is noted for its seafood cooked in French Mediterranean style. With fine views over the sweeping bay of Villefranche, you are not going to find a better location for lunch or an evening meal. The seared tuna and the carpaccio of scallops are delicious.
6. La Trinquette - Villefranche restaurant
La Trinquette restaurant is situated on the quay-side. The service is friendly and informal and there is a good choice of French Mediterranean and Vegetarian cuisine. Good local wine served in little pichets for only €4.
7. La Grignotiere restaurant Villefranche-sur-Mer
This cute little restaurant is close to the waterfront in Villefranche-sur-Mer. It specialises in good Italian and French Mediterranean cuisine. The service is very good and there is an excellent menu choice. Set menu from €18.
8. L'Oursin Bleu, Villefranche
L'Oursin Blue is a small restaurant set right on the port which can seat about 55 people. The food is presented beautifully and the Lobster Caesar is amazing.
9. La Caravelle restaurant in Villefranche
La Caravelle is a gem of a restaurant in Villefranche run by Pascal and his partner Marie-Crystelle. Very well priced, excellent service and the food is presented beautifully. Set menu from around €19. La Caravelle is located up a small street just 50 metres from the beach. La Caravelle Restaurant, 3 Rue de L'Eglise, Villefranche-sur-Mer.
10. La Cave Nature, Villefranche
This family-frendly restaurant in Villefranche has a very good range of vegetarian dishes and fresh local produce. The wine list also features a good range of Organic wines and champagne. Perfect for lunch. Very reasonably priced menu. It is located opposite Les Garcons restaurant on Rue du Poilu.
Tags: French restaurants, Villefranche-sur-mer, South France