Pablo Picasso house in Mougins South France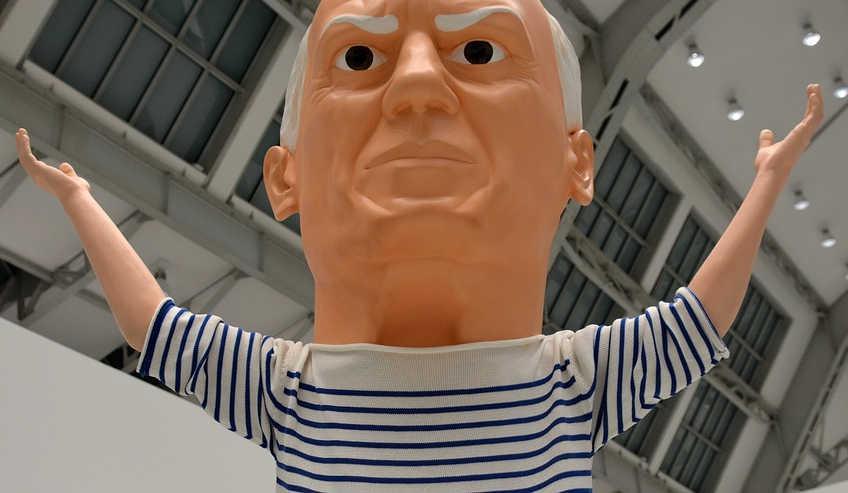 The village of Mougins is where Pablo Picasso lived for the last 12 years of his life and where he died in 1973 at the age of 91. Picasso was buried close to Aix-en-Provence. Picasso first visited Mougins in 1953, when he was living in nearby Cannes with his long-time muse, Francoise Gilot.
Later that year, he met his second wife, Jacqueline Roque, who was 46 years his junior. She worked at the pottery studio where he worked in Vallauris, close to Cannes. Together with Jacqueline he bought a property near to Aix-en-Provence, called Chateau de Vauvenargues. Picasso had originally wanted to settle at Vauvenargues, but now nearing his 80's he grew tired of the visits to his doctors based in Cannes, so he began searching for a new property to live.
Pablo Picasso house in Mougins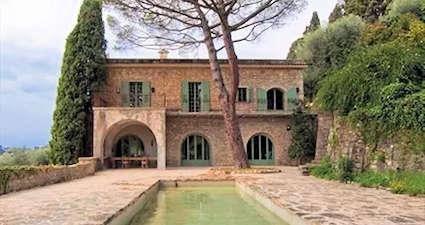 Picasso eventually found a beautiful 35 room property located on a hillside above Mougins, called Notre Dame de Vie. He lived at Notre Dame de Vie for 12 years.
Notre Dame de Vie was named after the nearby chapel, whose lines of Cypress trees inspired a number of his drawings.
Picasso's time in Mougins coincided with the height of his fame and wealth. Although his productivity was slowing down, this period of time coincided with some important artworks from his 'later period'.
Where and When did Picasso die?
Picasso died at his home of Notre Dame de Vie, Mougins, France on 8 April 1973. During the evening he and Jacqueline had been entertaining friends for dinner, but he later fell ill. The cause of his death was fluid in his lungs which caused breathing difficulties and led to cardiac failure.
It has always puzzled me why Picasso was not buried in Mougins. In actual fact he was buried 2 days after his death in the gardens of the Castle of Vauvenargues, close to Aix-en-Provence in the Bouches-du-Rhône department. I assumed that he had some connection to the castle.
But I read recently, that when Picasso died, the Mayor of Mougins refused his burial in the town, apparently referring to him as a "billionaire communist". I mean both of those things were true. He was a Communist of sorts and he was incredibly wealthy. It has always amused me that to a right wing politician, if a person holds left-wing sympathies, but they earn more than the average wage they are somehow a hypocrite, yet a poor person who holds right wing views is somehow seen as a martyr.
But either way, I have to say is a pretty ballsy decision to take, when you are the Mayor of a little town and you have the World's most famous artist living on your doorstep and you know that there will be a procession of tourists coming to see his grave to pay their respects (and bringing revenue into the town with them), to say, nope it is not happening here.
Picasso's family were furious with the Mayor, so they all united and thought up yours, we're off. I actually think that Picasso would actually have enjoyed this one last fracas with the authorities and the pen-pushers.
Picasso in Mougins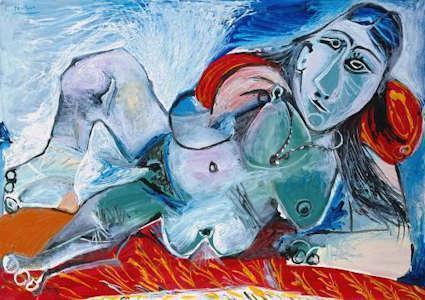 Amongst the famous pieces of work produced during his time in Mougins were: The Dance of Youth, 1961; Nu assis dans un fauteuil, 1963; The Chicago Picasso, 1967; and Femme nue au collier, 1968 (pictured left) which was a painting of Jacqueline Roque.
Although Jacqueline Roque was by all accounts not the easiest of women to be with (she later prevented two of his children from attending his funeral), there is no doubt that she loved Picasso. She later shot and killed herself, unable to cope with the loneliness of life without Picasso.
Picasso himself produced over 400 drawings and painting of Jacqueline during the 20 years they were together. He produced 70 portraits in one year alone. This was more than he had produced from any of his previous relationships, including his time with Dora Maar and Francoise Gilot.
Notre Dame de Vie - Picasso home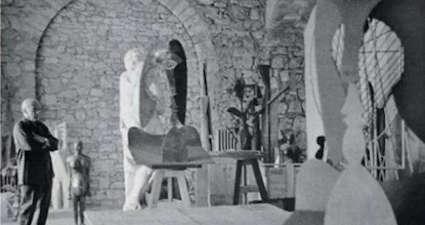 Pablo Picasso's home in Mougins is not open to visitors, as it remains a private residence. After his death, the property was bought by a Belgian art dealer.
In 2015, Notre Dame de Vie was put up for sale for €150m. There was some consternation that the interior of the property had been altered substantially since Picasso's time. But as anyone who has owned a house with an Avocado bathroom suite can confess, time does not stand still.
Musee Picasso Antibes France
Today there is an extensive museum dedicated to Picasso's life and work in Southern France, located in the nearby town of Antibes.
The museum is housed in the Grimaldi castle in Antibes, overlooking the Mediterranean sea. There is an historical reason why the museum is located here and not in Mougins, France.
In 1946, Pablo Picasso was provided with a studio space in the castle, which he worked in for two months. He produced a number of important works during this time, some of which he left at the castle. In 1957, Picasso received the title of "Honorary Citizen of the city of Antibes". In 1966, the Picasso Museum was founded at the castle and in 1990, Picasso's widow, Jacqueline, donated many art works and ceramics to the museum. Today the museum exhibits around 250 Picasso works, as well as paintings and sculptures from other contemporary artists.
You can find the Picasso Museum in Antibes at Château Grimaldi, Place Mariejol, 06600 Antibes, France. The museum is open from 10.00 to 13.00 and 14.00 to 18.00 every day.
Tags: Mougins France, Art South France, Picasso South France