10 best art museums to visit in South France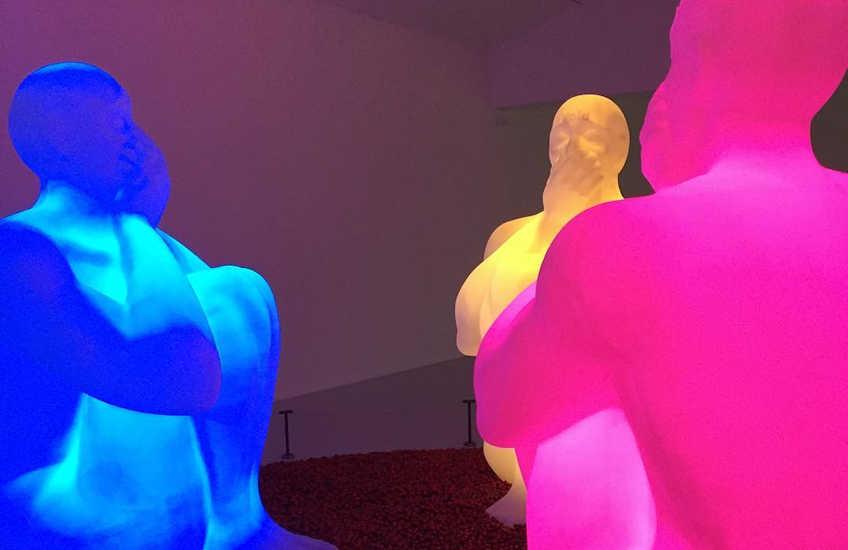 Ceret Modern art museum South France
Outside of Paris, the best art museums in France are located on the Southern French coast. The South of France has been home to a wide range of famous artists throughout history - from Picasso to Van Gogh and Cézanne to Renoir.
Towns such as Aix-en-Provence, Antibes, Mougins, Arles, Montpellier, Toulouse, Collioure and Ceret all boast an impressive art heritage.
Pablo Picasso in South France
10 best art museums South France to visit
Perhaps the most famous artist to spend a considerable portion of his life in South France, was Pablo Picasso. Picasso had spent numerous summers on the Cote d'Azur during the 1920's, staying in Cap d'Antibes, Cannes and Juan les Pins.
During the Spanish Civil War, Picasso moved from his residency in the Prado Museum in Madrid to stay in Mougins.
After moving down from Paris after the Second World War, Picasso lived for over 12 years in Vallauris, close to Cannes. During his time in Vallauris, Picasso developed a fascination with pottery (Vallauris was historically a clay quarrying town). Picasso also painted the main chapel in Vallauris with surrealist images depicting war and peace.
Picasso also spent time in Ceret, Perpignan and Collioure, close to Perpignan near the Spanish border. His estate have donated works to both the art museums located in these towns.
Picasso moved in his later life to Mougins (which was closer to his Doctor in the north of Cannes). Picasso died in Mougins on 8 April 1973. He was buried two days later in the grounds of the Castle of Vauvenargues close to Aix-en-Provence, in the Bouches-du-Rhône department, apparently after the Mayor of Mougins refused his burial in the town, referring to him dismissively as a "billionaire communist".
Paul Cézanne in Aix-en-Provence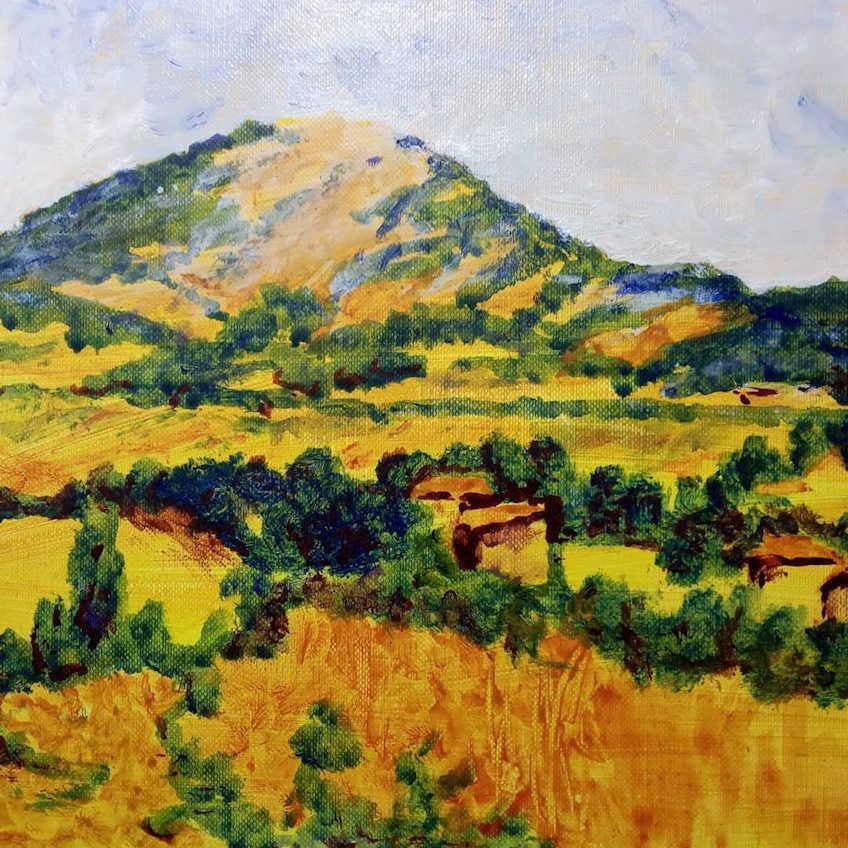 Cezanne "Mount Sainte Victoire", Aix en Provence (courtesy of Foundation E.G. Bührle, Zürich)Paul Cézanne was born in the beautiful Southern French town of Aix-en-Provence on January 19, 1839. During his early years, the Cezanne family were quite poor - his father was a hat maker and his mother worked in a factory. But during his teenage years, Cezanne's father became quite wealthy after he had started a bank in the town.
Cezanne was a childhood friend of the writer Emile Zola (who supported him financially at various stages of his artistic career) and he attended drawing classes at an Art School in Aix-en-Provence, before going on to study law at Aix-en-Provence university.
After moving to Paris, Cezanne became a contemporary of Claude Monet, Renoir, Manet and later, Pissaro. He returned regularly to Aix during his life and he set up a permanent studio there in 1902. The Mont Sainte Victoire, the mountain range which forms the backdrop to Aix-en-Provence, features in a number of Cezanne's paintings throughout his career.
Today, Cézanne is often referred to as the "Father of Modern Art", but as is typical for controversial artists, he was only moderately successful during his lifetime. He painted over 900 paintings throughout his 40 year career, but it was only during his later years that he earned a wider reputation. Despite sending individual paintings to the annual Salon des Indépendants art exhibition in Paris from 1899, it was only in 1904, 2 years before his death, that he was given an entire room at the Salon in 1904.
Paul Cézanne died in Aix-en-Provence on October 22, 1906.
Henri Matisse Nice France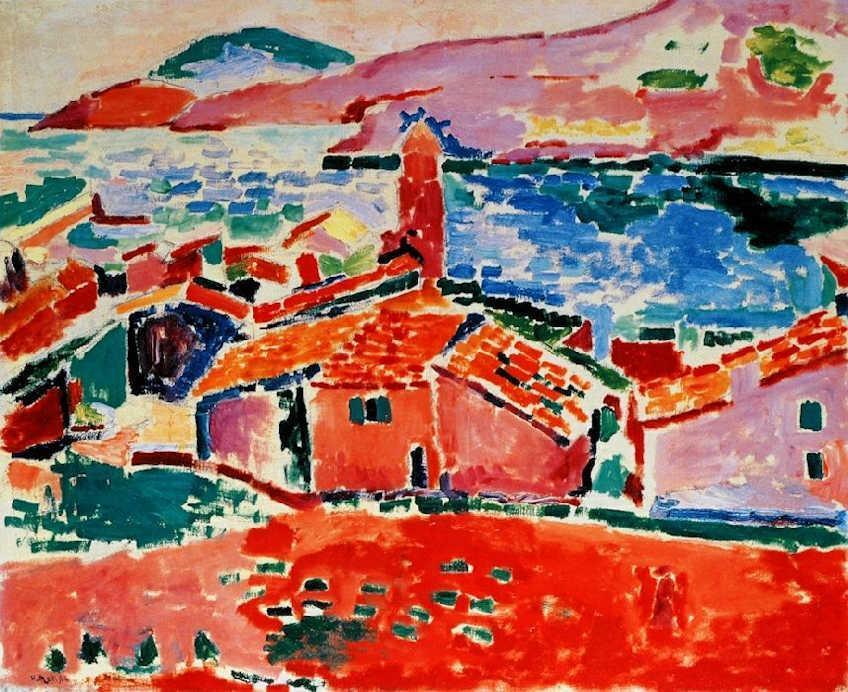 Henri Matisse Collioure France [Photo courtesy of Maison du Fauvisme Collioure]The celebrated Modernist painter, Henri Matisse, spent the last few years of his life in South France in Nice. Matisse had been coming to the South of France for a number of years.
During his time in Nice, Matisse used to visit his fellow artists Picasso and Chagall. He also spent a large amount of time canoeing and rowing at the Club Nautique in Nice. Matisse also developed a string religious faith during his later years and he a small chapel in Vence, just a few miles away.
During his early career, Henri Matisse lived in Toulouse (where both his children were born), before moving to Corsica. He became involved in the Fauvist movement of painters, featuring such artists as André Derain and the sculptor, Maillol and he joined them for a number of summers between 1905 and 1914, in the coastal town of Collioure in Southern France, close to the Spanish border (see Collioure Modern Art Museum below).
There is a small Musee Matisse in Nice which records his life and works in the city. The museum is housed in a beautiful red Genoese villa, situated in the Jardin des Arènes de Cimiez.
Matisse died in Nice in 1954, at the age of 84.
Musée Matisse Nice France
Address : 164 Avenue des Arènes de Cimiez, 06000 Nice
Telephone : +33 04 93 81 08 08
Website : Musée Matisse
Auguste Renoir - Cagnes Sur Mer, French Riviera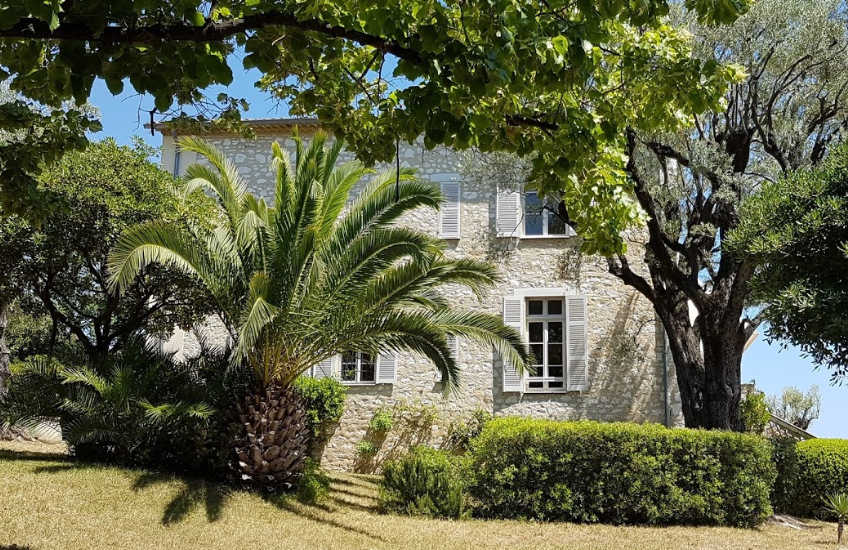 Musee Renoir Cagnes-sur-Mer, South FranceThe small coastal resort of Cagnes-sur-Mer, located close to Nice airport on the French Riviera coast, was a place that the artist Pierre-Auguste Renoir, spent a lot of his time. Renoir had made many trips to the South of France in the 1880s, often to visit his friend, Paul Cézanne.
Renoir was a friend and contemporary of the impressionist painters Claude Monet and Frédéric Bazille. He loved the light in the South of France and in 1903, he bought a small farmhouse, the Domaine des Collettes, in Cagnes-sur-Mer and turned it into his own Impressionist studio. By this time he was 62 years old and his health was beginning to cause him concerns. He often credited the climate in the South of France with prolonging his life and allowing him to continue painting and increasingly, devoting more time to sculpture.
You can still visit that Renoir's home today (Musée Renoir) and see his original paints hanging on his walls unprotected as they were when he first strung them up. The art works he produced during his time in Cagnes-sur-Mer were mainly portraits, nudes, still lifes and mythological scenes.
Despite becoming a very well-known (and rich) artist during his time in Cagnes-sur-Mer, Renoir still lived a very simple life with his wife and children. Renoir died at Cagnes-sur-Mer on 3 December 1919, a few weeks after visiting the Louvre in Paris for the last time.
Musée Renoir
Address: 19 Chemin des Collettes, 06800 Cagnes-sur-Mer
Website: Musée Renoir
Best art galleries in South France
We have listed below what we think are the best and most innovative art museums to visit in South France. These art galleries are located across Cote d'Azur, Provence and the Languedoc region.
1.) Musée Fabre, Montpellier art gallery France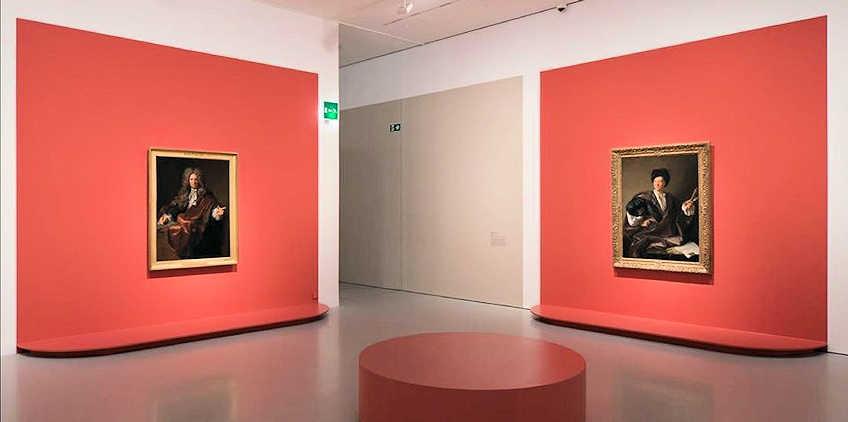 Montpellier is one of the oldest cities in the South of France and it has had a dedicated art museum since 1828. Musee Fabre, is Montpellier's famed art museum and it has completed a €62 million facelift. The renovation has added a new wing and constructed a new walkway up to Musee Fabre designed by Daniel Buren. The exhibition spaces have been increased from 3,000 to 9,000 m2, including a temporary exhibition hall of 1,000 m2.
Musée Fabre is located in a beautiful old Mansion building over-looking the esplanade in the centre of Montpellier, close to the historic Place de la Comedie. The Museum is named after Francois-Xavier Fabre, a painter from the 18th Century, who established the Society of Fine Arts in Montpellier.
The museum attracted a number of important donations from private art collectors, including from the wealthy stockbroker Antoine Valedau, who bequeathed a large group art works from the Dutch and Flemish masters, Rubens, David Teniers, and Gérard Dou.
The family of the Montpellier painter Frédéric Bazille donated important paintings from his early Impressionism era (Vue de village, Aigues-Mortes, La Toilette, Atelier de la rue Furstenberg and Jeune femme aux peonies) and these were followed by other donations of works from Gustave Courbet (The Bathers or Les Baigneuses); Francois-Leon Benouville (The Wrath of Achilles); Eugene Delacroix (Fantasia, Algerian women in their room); and Alexandre Cabanel (Phèdre).
Gustave Courbet's Bonjour Monsieur Courbet is often regarded as Museum Fabre's flagship display, together with the two exhibition rooms devoted to the local painter and engraver, Pierre Soulages.
Other local artists feature heavily at Musée Fabre including Germaine Richier (La Montagne), who died in Montpellier in 1959 and the sculptors, Aristide Maillol, who was born and died in Banyuls-sur-Mer, near Perpignan; and René Iché, who was born in the nearby Aude department.
Other prominent works displayed from artists connected to the South of France, include Raoul Dufy; Jean Hugo; and Albert Marquet.
Musée Fabre Montpellier
Address : 39 Boulevard Bonne Nouvelle, 34000 Montpellier
Telephone : 04 67 14 83 00
Website : Musée Fabre
2.) Frank Gehry's Luma tower - Arles, South France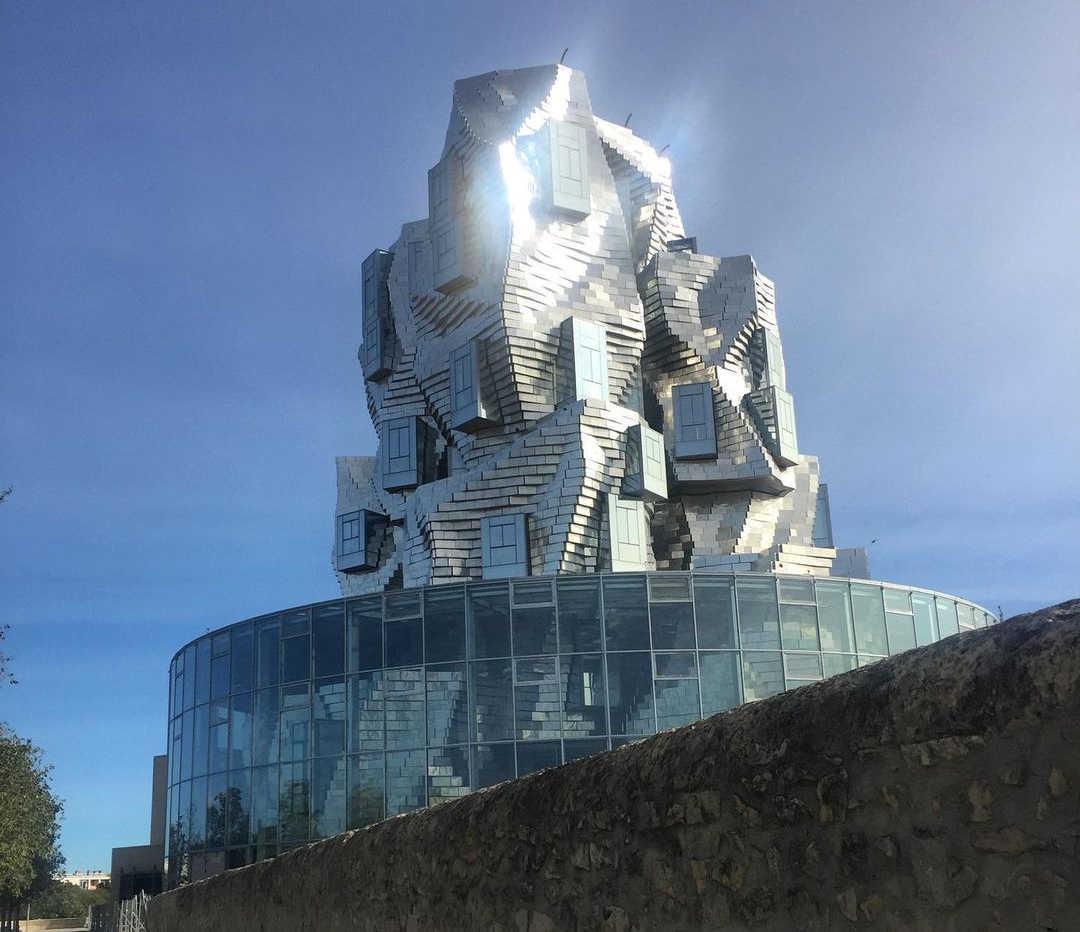 The newest addition to the plethora of art museums in South France, is the striking Luma Arles tower, designed by the celebrated Canadian/American architect, Frank Gehry. This amazing tower is made from 11,000 blocks of stainless steel and is the centre-piece of a 16-acre art-complex built on the site of the Parc des Arteliers, a former railway workshop and industrial site in Arles, France.
Luma Arles will operate as a contemporary arts centre where artists, researchers, and creators from diverse fields will work and collaborate on exhibitions and projects. At the centre of Luma Arles, Gehry's 56 metre tall tower will house a wide range of programs including research facilities, workshops, seminar rooms, and artist studios. At tower's base, there will be a large glass atrium that can be open to the general public.
Luma Arles is the brain child of Maja Hoffmann, a Swiss art collector, documentary filmmaker and entrepreneur. The overall campus is privately funded by Maja Hoffmann's Luma Foundation and it is expected to cost around $175M in total.
Luma Arles Tower
Address: 33 Avenue Victor Hugo, 13200 Arles
Telephone: +33 04 90 47 76 17
Website: Luma Arles
Hoffman chose Arles as the location of her project because of its famous association with the artists Vincent Van Gogh and Paul Gauguin.
Vincent van Gogh & Paul Gauguin in Arles, France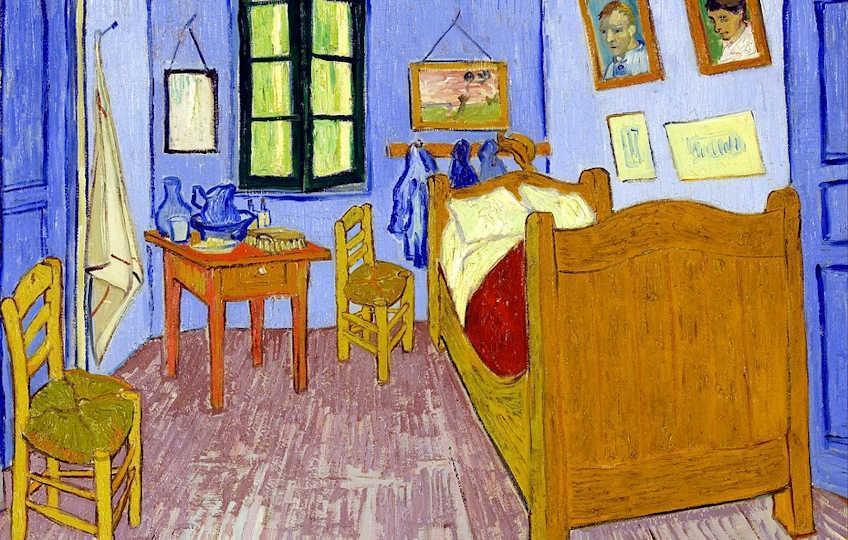 Vincent van Gogh arrived in the Southern French town of Arles in 1888. During the 12 months van Gogh stayed in Arles, he produced an incredible 187 paintings and drawings, including some of his famous masterpieces such as: The Sower, Bedroom in Arles, The Night Cafe, The Café Terrace on the Place du Forum, Starry Night over the Rhone, Vase with 12 Sunflowers, Van Gogh's Chair and Self-portrait with Bandaged Ear.
Van Gogh was later joined by the painter Paul Gauguin and he also enjoyed a productive spell in the South of France. It is estimated that between them, the art works produced by van Gogh and Gauguin in Arles have a total value of over $1.5bn. What is even more amazing is that during this period, neither of these famous artists managed to sell any paintings at all
See our article on Van Gogh in Arles, South France for more details.
If you love art or history then Arles in South France is definitely a place worth visiting. The combination of Roman artefacts and the scenes of van Gogh's paintings are enough to draw you to this beautiful city and keep you in Arles for the whole day. Amongst the sites to see include:
Arles Espace Van Gogh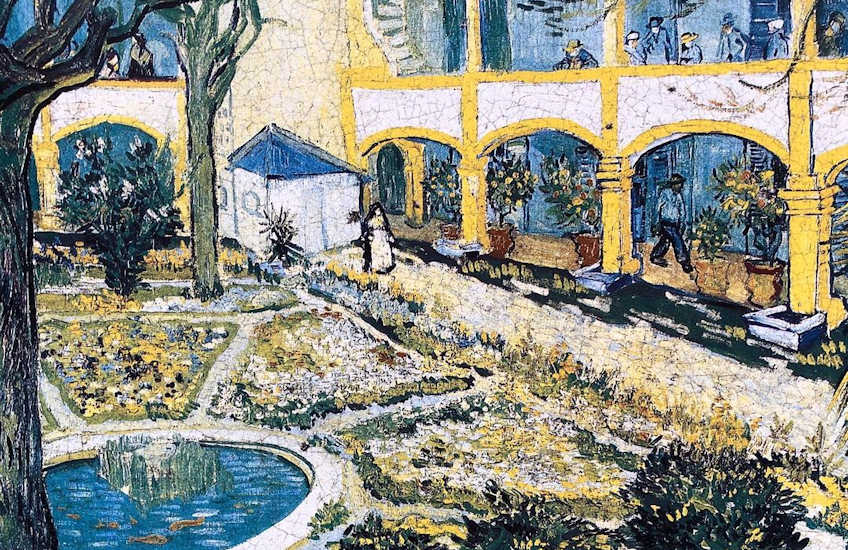 Espace van Gogh is located on the original site of the old hospital in Arles, where van Gogh spent time after he cut off his ear. It was immortalised in his painting Hopital d'Arles. Today the hospital has been converted into an open space with gardens, together with artist studios and small exhibition galleries.
It is well worth a visit and you will get a good view of one of his famous paintings. The scenery has changed a bit, but you can still recognise the garden and hospital from the painting.
There is also a small art trail that you can follow in and around Arles, where you can see the natural habitats that van Gogh and Gauguin painted. Next to each of the sites you will see information boards showing the original paintings and a description of what the artists was creating. Among the sites to see include:
The Night Café/Le café de soir on Place de Forum;
Le Pont de Langlois aux Lavandières (pictured below);
L'Escalier du Pont de Trinquetaille;
Starry Night/La Nuit Etoillée at Quai du Rhone;
Le Vieux Moulin at rue Mireille
Le Jardin de la maison de Santé at Espace Van Gogh
Le Jardin Public at Boulevard des Lices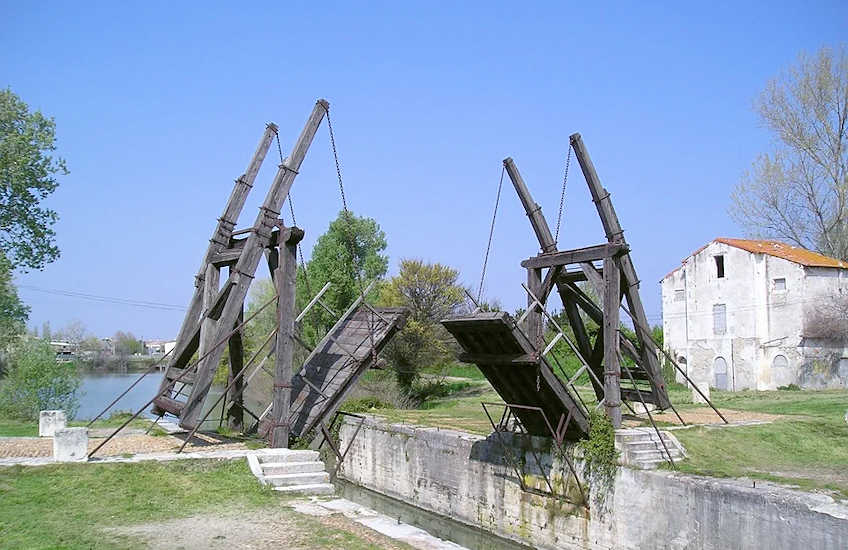 The scene of "Le Pont de Langlois aux Lavandières" today
Arles art galleries - Musee Reattu
Musee Reattu on the banks of the Rhone is a little museum featuring important works by Picasso and the 18th century artist Jacques Reattu. Apparently, Picasso was horrified to discover that despite van Gogh's close association with Arles, the town did not possess a single one of his paintings. To make amends he donated a significant number of drawings.
Since that time the Museum has obtained a number of van Gogh's letters to his brother, Theo van Gogh, but still no paintings.
3.) Marc Chagall art museum Nice France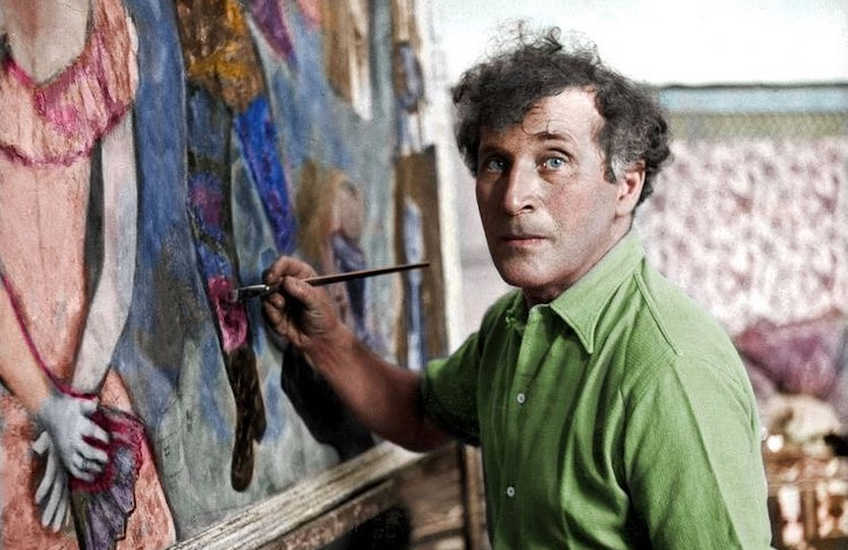 The famous artist Marc Chagall, lived in St Paul de Vence near Nice, France, for a large part of his later life. He first visited the Cote d'Azur in 1925, but he had to make a quick escape to New York following the Nazi invasion of 1941.
Chagall returned to the Cote d'Azur at the end of World War II and set up full-time residence in St Paul de Vence (close to his friends and fellow painters, Picasso and Matisse). Whilst he was living near Nice, Chagall created the amazing blue stained glass piece "American Windows"(1977); the giant mosaic "The Four seasons" (which is now displayed at the Marc Chagall Museum in Nice) and the painting "Les Amants au ciel Rouge", with its fantastic red backdrop.
Marc Chagall died at his home in St Paul de Vence at the age of 97 in 1985. As part of his will, he bequeathed a number of paintings to the city of Nice, the result of which was the creation of the Marc Chagall art museum.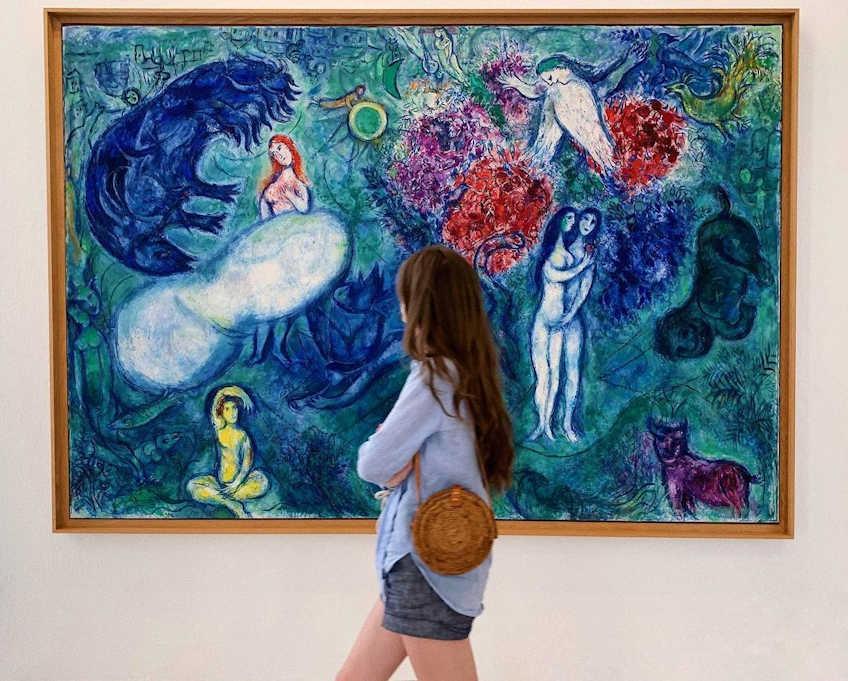 The art collection at the Marc Chagall museum is the biggest public collection of art works by Marc Chagall in the World. The museum is organised around the set of paintings produced on the Old Testament themes. The main attraction is the twelve large paintings illustrating the first two books of the Old Testament (Genesis and Exodus). Other rooms in the museum house compositions based on other Old Testament books.
Marc Chagall is often celebrated for his earlier work whilst he stayed in Paris. Paintings such as "The Promenade", "Paris Life through a Window" and "Self-Portait with Seven Fingers", marked out his distinctive abstract style and use of colour.
Musee Marc Chagall Nice France, Avenue Docteur Ménard, Nice, France.
Opening hours: 10:00-18:00 (May to October); 10:00 -17:00 (November to April); closed Tuesdays.
Ticket prices are moderate (adult admission costs €8 EUR, while children's entry costs €6 EUR.
Website: www.musee-chagall.fr
4.) Best modern art museums - Musee Carré d'Art, Nimes, France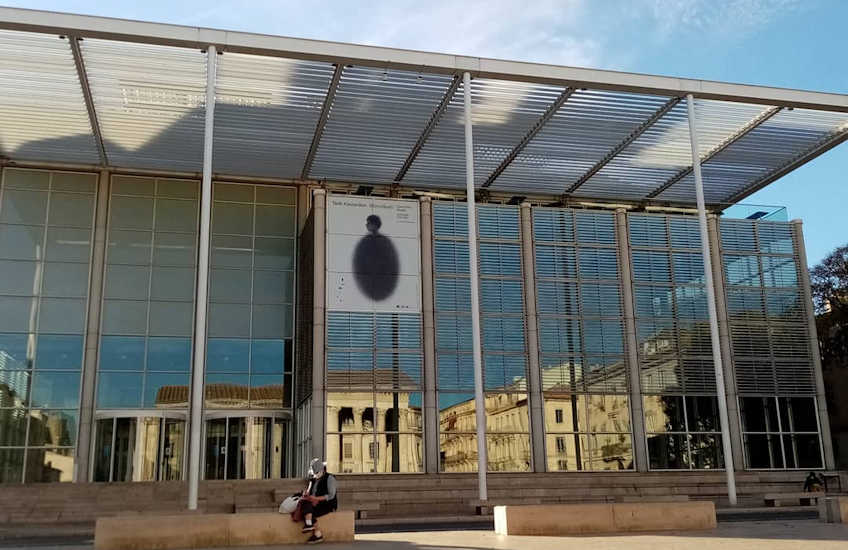 The modern art museum in Nimes, the Carre d'Art, was built in 1993 by English architect Norman Foster. The museum quickly established itself as one of the best museums of contemporary art in the South of France. The museum sits opposite the Maison Carree, one of the finest examples of a fully intact Roman temple, dating back to the 1st century BC.
Musee Carré d'Art, Nimes modern art museum, hosts a number of collections and visiting modern art exhibitions. The permanent collections feature prominent artists associated with the South of France such as Mario Merz, Sophie Calle, Annette Messager and Suzanne Lafont.
During 2021, the Carre d'Art, Nimes, will feature a visiting exhibition from the Iranian/German artist, Nairy Baghramian. The exhibition features a range of sculptures, photographic works, and drawings that explore the relationships between everyday objects and the human body. Her sculptures in particular feature a diverse range of materials from steel, to glass, silicon, resin, cork and leather.
For more information on this Modern art museum in Nimes, South France, please visit the Musee Carre d'Art, Nimes website for the latest details.
5.) Top art museums - Mougins Classic Art Museum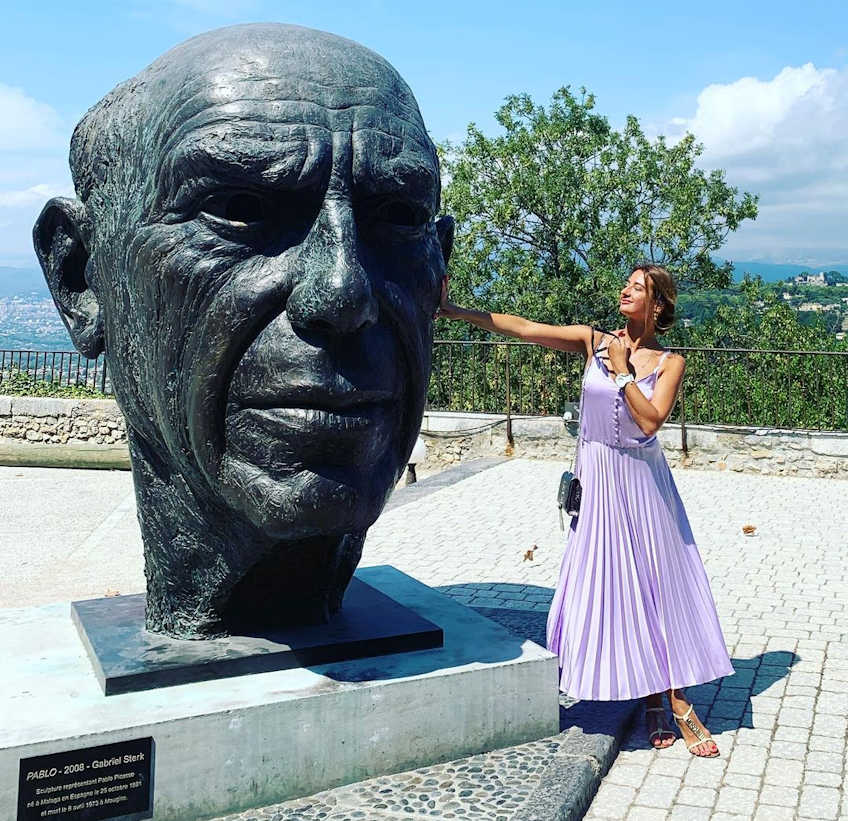 The Mougins Classic Art Museum (MACM), was established in 2008 by Christian Levett, a wealthy Hedge-Fund Manager and local resident of Mougins. Levett already had an enormous private collection of ancient and modern art and he was helped in establishing the Museum by the current Museum Director, Mark Merrony.
The Mougins art museum features works spanning 5,000 years of civilisation including artwork by Picasso, Matisse and Jean Cocteau; alongside collections of roman coins and ancient armour.
6. French art museums - Ceret Modern Art Museum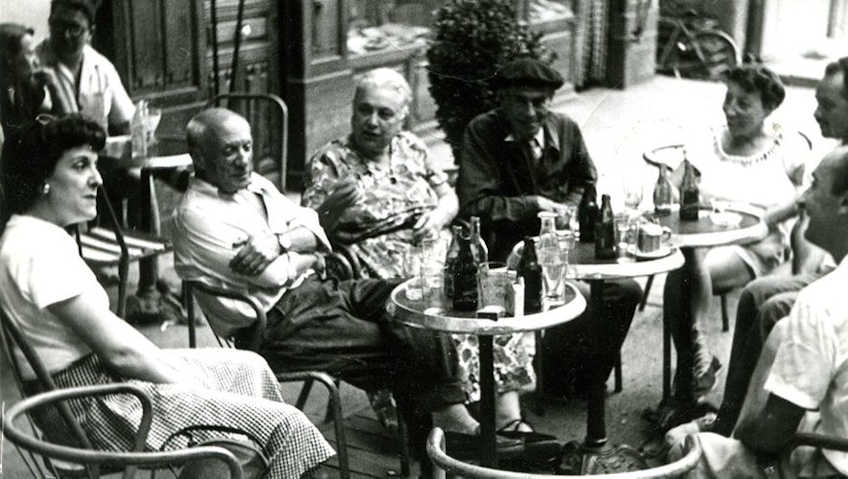 Pablo Picasso in Ceret, France in 1913 [Photo courtesy of https://www.ladepeche.fr/ CC archive]In the very bottom of South France, close to the border with Spain, the small town of Ceret has been a mecca for artists since the turn of the 19th Century. Ceret is located about 30 minutes' drive from Perpignan, and here you will find one of South France's top modern art museums.
The Ceret Modern Art Museum hosts some very well-known artists, including Miro, Chagall, Dali, Matisse, Picasso and Braque. Ceret Modern Art Museum is located right in the centre of Ceret - you can't miss it.
1910 was a significant year in the development of the art scene in this small Southern French town. Three friends and artists arrived in Ceret by train from Paris: a sculptor, a composer and a painter. They retained a close association with Ceret throughout their lives.
The Catalan sculptor Manolo worked and lived in the Ceret until 1927. The composer Déodat de Séverac remained in Ceret until his death in 1921. The Cubist avant-garde painter Frank Burty Haviland, (who later married Joséphine Laporta) regularly visited Ceret until his death in 1971.
Through the influence of these 3 artists, Ceret became known as the "Mecca for Cubism". Other artists followed, including the Sculptor, Aristide Maillol, who was born in the nearby coastal town of Banyuls-sur-Mer; Picasso, who rented the first floor of a large bourgeois house in Ceret in 1912 and 1913; the famous Cubist painter Georges Braque; and the painters Juan Gris (between 1921 to 1922), Auguste Herbin (1918-1923) and Max Jacob ( in 1918) who lived and worked with Picasso and spent many evenings at the Grand Café with this close circle of artists.
Later, other prominent artists arrived in Ceret, including Pierre Brune, the Russian painter and sculptor, Pinchus Krémègne (who later built a workshop close by to Ceret), Berthol Mahn in 1928, Jean Osouf and Tristan Tzara in 1929, René Carvillani in 1934, Joan Maragall who made numerous visits to Ceret between 1921 and 1937; Marc Chagal , who moved to Mas Lloret near Ceret in 1928-1929; and Jean Dubuffet in 1939.
During the Second World War, Ceret briefly became a haven for intellectuals escaping the occupation of Paris, such as Jean Cassou, Jean Cocteau, Marc Saint-Saëns, Raoul Dufy and Albert Marquet.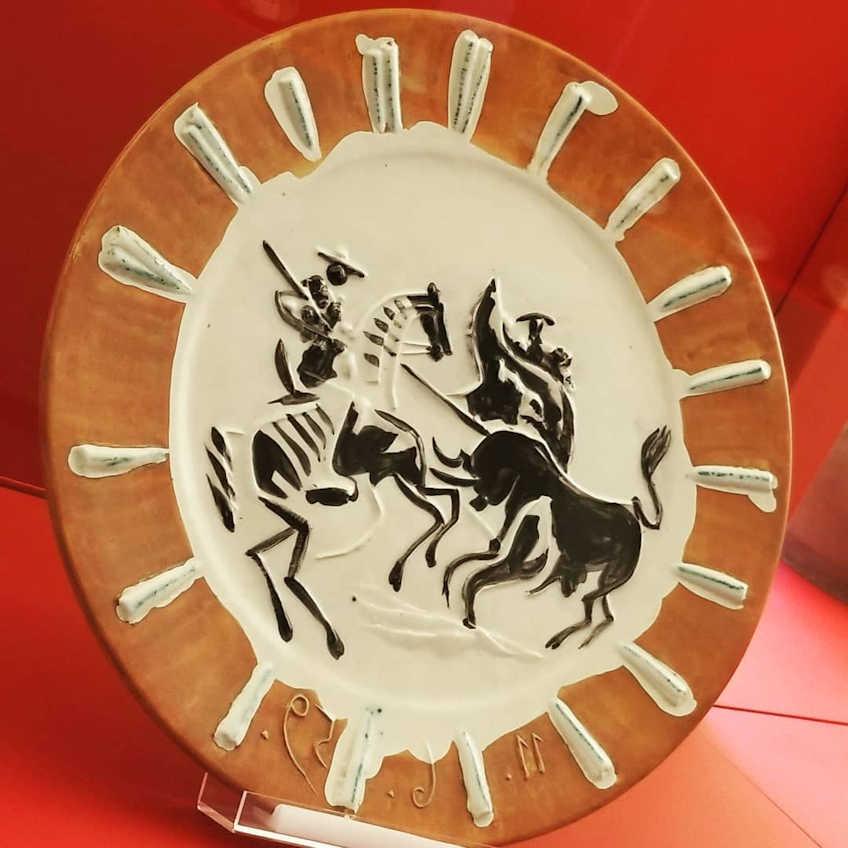 Picasso ceramic on display at Ceret Modern art museum, France
The background to the formation of the Ceret Modern Art Museum, lies with the wealthy widow of Michel Aribaud, a local wine merchant and art collector. She bequeathed a series of paintings and art works to the town by Herbin, Gris, Kisling, and Manolo.
Soon afterwards, in 1950, Pierre Brune and Frank Burty Haviland devise the plan for creating a museum of modern art, which would celebrate the role of Ceret in developing the Cubist and Fauvist movement. They contact various artists connected to the town and with the help of Pablo Picasso and Henri Matisse in particular, they manage to assemble a fine collection of art work.
The museum was formerly inaugurated on18 June 1950 in the halls of the magnificent Capuchin Convent (which was owned by Haviland). The Museum was later extended during the 1980s and a new building was eventually opened by President Francois Mitterand in 1993.
Musée d'Art moderne de Céret,
8 Boulevard Maréchal Joffre, 66400 Céret, France.
Opening hours: 10am-7pm in mid-summer, and till 6pm from Sept 16th-June 14th; closed Tuesdays.
Telephone
: +33 04 68 87 27 76
Website: www.musee-d-art-moderne-ceret.fr
.
7.) Picasso museum Antibes France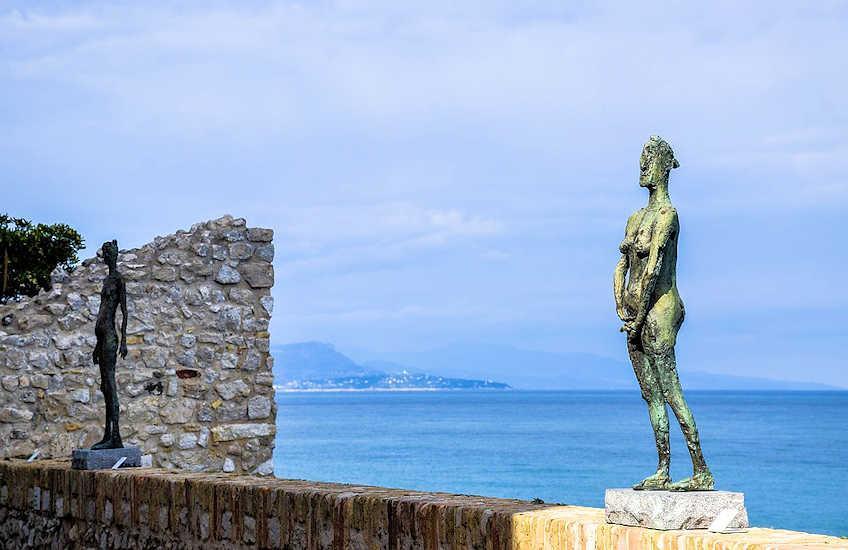 Here in Antibes, you can spend some time at the other Chateu Grimaldi, which was once home to the famous Grimaldi family.
This chataeu also housed Pablo Picasso for six months and was thus turned into a museum dedicated to him.
He and his wife donated a number of pieces to the museum and it currently holds 245 works of his! If you a fancy a scenic walk after, the Le Sentier du Littoral will grant you one of the most beautiful footpaths in the world.
Find your way to the Garoupe Lighthouse and you'll see some amazing views, especially if you arrive right before sunset. If you're feeling extra fancy, spend a night at Hôtel du Cap-Eden Roc, a recreation of a nineteenth-century chateau.
8. Top 10 art museums - Musee Riguad, Perpignan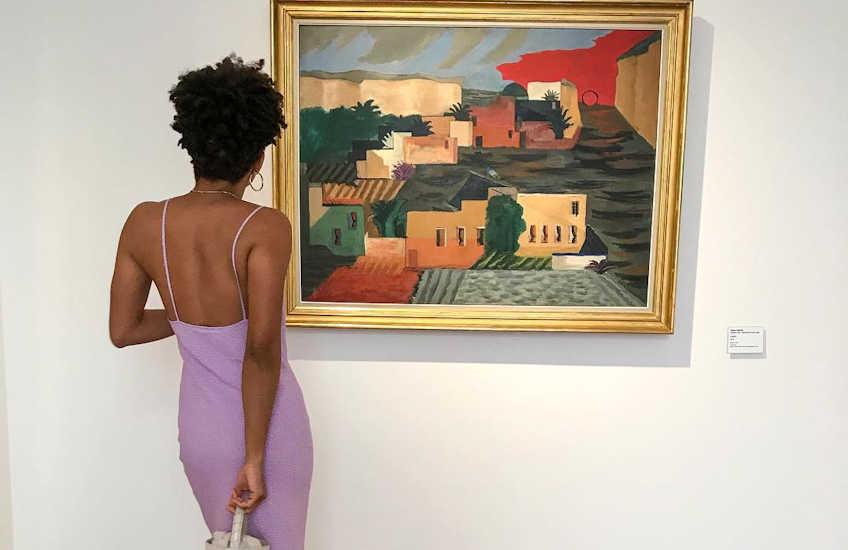 Musee Riguad serves as perpignan's Museum of Art. This old 17th century Palace, was originally the workshop of the artist Hyacinthe Rigaud, a favourite of the court of Louis XIV. But it later served as a studio for a range of famous artists such as Picasso, Dufy, Maillol and Cocteau. If you have time it is well worth popping in to see the collection of paintings from its former residents.
Musee Rigaud, Perpignan art gallery is on rue Ange, close to place Arago.
9. Villa Ephrussi art museum Cap Ferrat, Cote d'Azur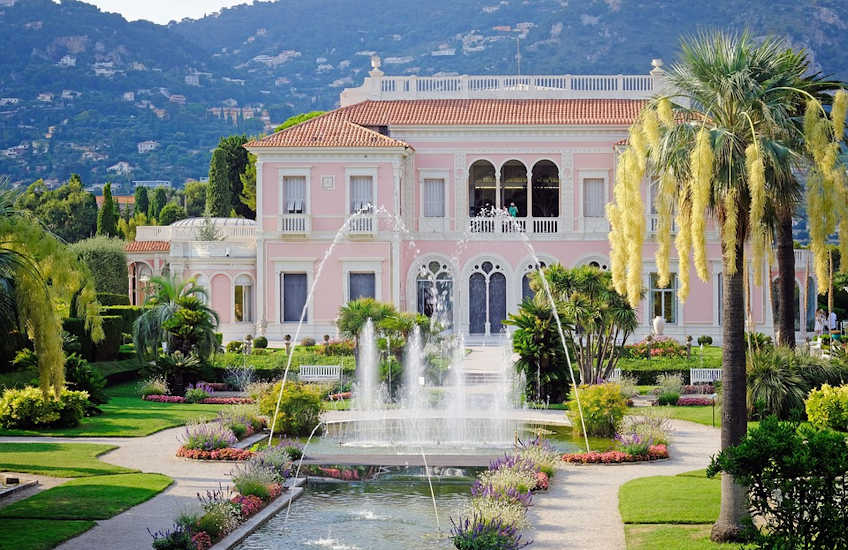 Finally, take a drive along the winding roads to Cap Ferrat, an exclusive peninsula once the home of King Leopold II of Belgium. The area is the epitome of unspoilt French Riviera glamour. The Rothschild banking family also lived here years ago and Beatrice Rothschild was once the world's greatest art collector. Walk around her luxurious Villa Ephrussi for a taste of her world that no longer exists. Her mini mansion houses a rare collection of porcelain and tapestries, in addition to paintings and furniture from the 18th century. Step outside of her home and explore her gardens filled with huge foundations that stream to the sound of music every twenty minutes. After leaving there, make a little trip to the chapel Saint Pierre Des Pecheurs and see the bright frescoes by Jean Cocteau.
10. Collioure modern art museum France - Fauvist artists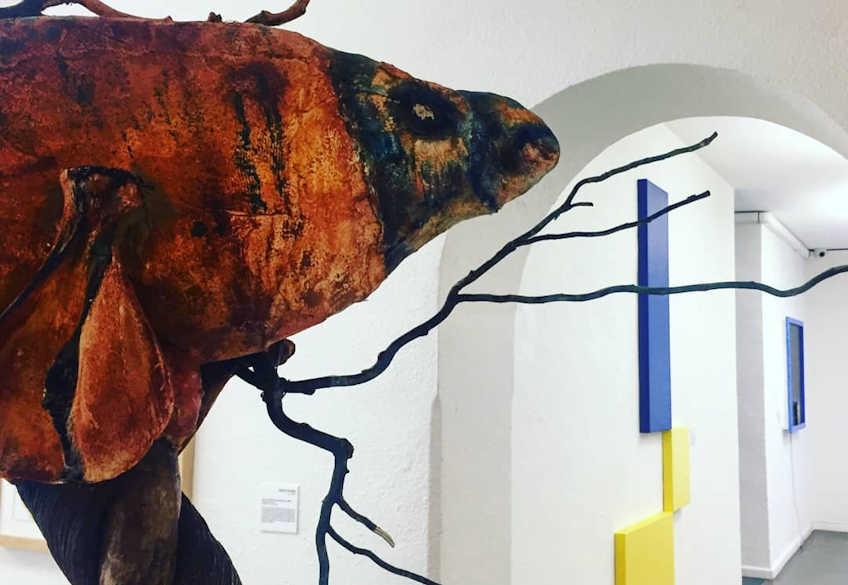 Nearby, the small fishing port of Collioure became the Mecca of Fauvism, welcoming from 1905, Henri Matisse and André Derain. Matisse, who lived there periodically between 1906 and 1914, invited his friends Marquet, Manguin and Camoin to join him.
Tags: Art South France, Picasso South France, Van Gogh France